Day 1 → Chengdu - Kangding, 330km / Altitude: 2,560 m
In the morning we will depart Chengdu as we drive 4 hours to Kangding, home to one of China's most famous love songs. After lunch we will arrive in Kangding, located just 30 minutes from Minya Konka, Sichuan's tallest mountain at 7556 meters in elevation. Kangding is the gateway to the Kham region of the Tibetan Plateau or Sichuan's west wild and the capital city of Garze prefecture. In Kangding town we will settle into our Tibetan style lodging and begin our gradual acclimatization to the altitude.
We will have our first taste of Tibetan cuisine as we sample fried yak meat and Tibetan dumplings in the evening. As this is the historical entry point into Tibet, we will hear about the tales of travelers and their adventures from the Eastern Tea and Horse Road route. It is also a very famous Tibetan town today.
At night we will visit Kangding's Ngachu Monastery, followed by a Tibetan community circle dance in the local square (feel free to join in!)
2 → Kangding - Tagong, 110km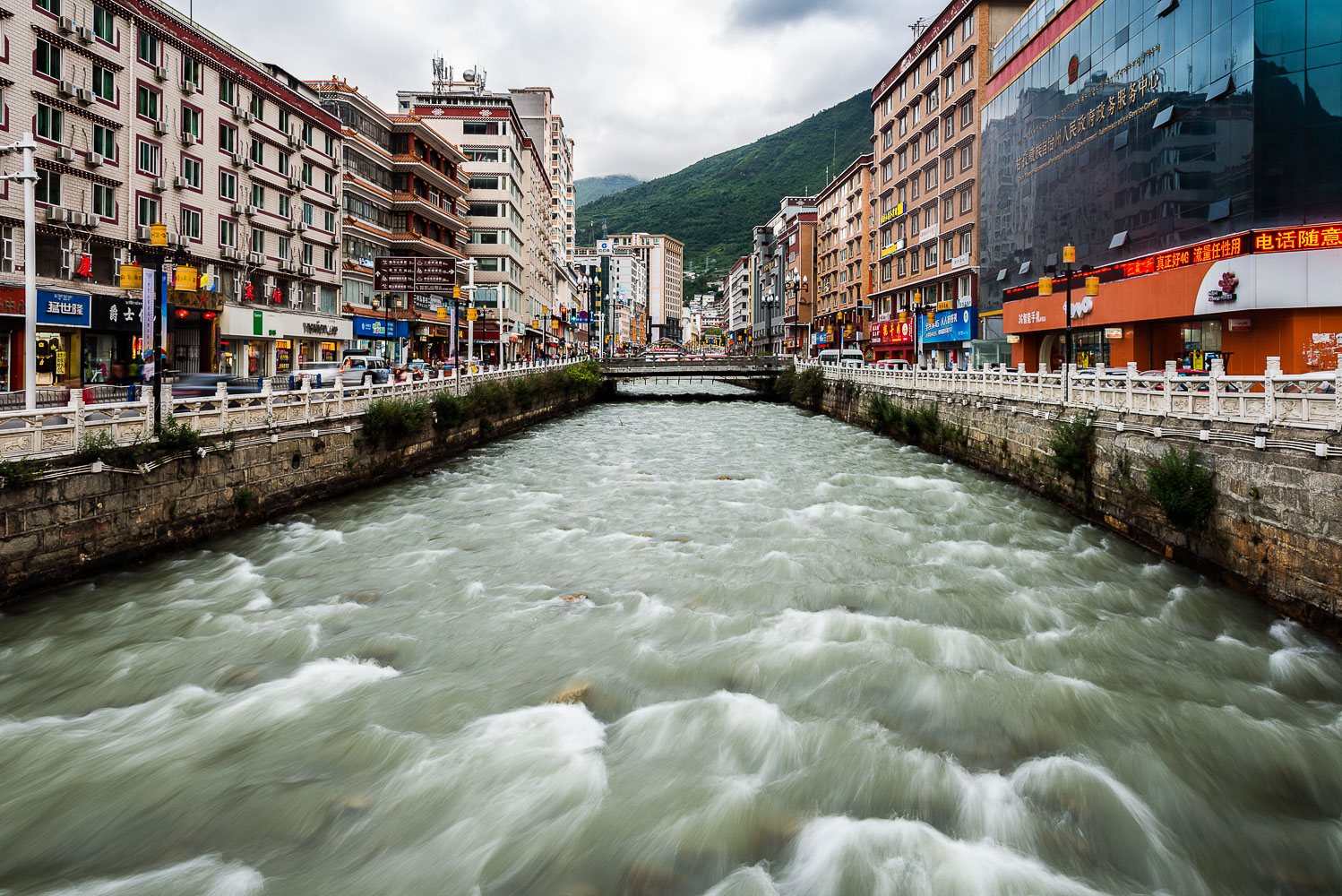 Xinduqiao
Tagong grassland
Tagong monastery and Nunnery
After another delicious breakfast, we depart Kangding on a 3 hour drive up to 3,700 meters to a very unique Tibetan town called Tagong. Tagong is famous for its grassland cowboys and its elegant stone architecture. Tagong is also famous for having some of the best horse trekking in Sichuan. Along the way we will stop at snowy pass at 4,200 meters with an extraordinary mountain view from a Buddhist pagoda full of colorful prayer flags. In Tagong we will explore the town monastery and then drive another 20km to see the Ane Gompa Nunnery with one of Sichuan's largest mani stone piles. Hundreds of Tibetan pilgrims visit this site every day to walk around the nunnery and seek healing near the sacred stones.
You can walk in the nunnery by yourself late in the afternoon and evening.
In this nunnery, there are about 500 nuns and more than 100 monks, and this is the one of the largest nunneries in the area. You will see the monks, nuns, and locals walking and prostrating through their daily kora (circumambulations around the temple) as we walk by colorful mani stones carved with Buddhist mantras. Here we will have the chance to worship like a local pilgrim in this sacred space.
After a full day of travel, we will sleep in the nunnery's hotel just by the nunnery.
3 → Tagong- Drango
From Tagong, we will travel 180 kilometers (112 miles) from the high grasslands, famous for their horse races and strong horses, to the farming villages of Drango (Luhuo in Chinese). Along the way we may get a chance to experience the barley crops and harvest of a few simple farming villages.  We will sleep in Luhuo town at 3,200m (10,500 feet).
We will sleep in a simple but clean hotel in Drango.
4 → Drango - Garze
Today we drive 95 km (60 miles) to Garze town at 3,360 m (11.025 feet).  Garze contains a lively market and will explore the Ganzi Monastery. This is known as Ganzi Gompa in Tibetan and is found at the north end of the town and belongs to the Gelugpa sect of Tibetan Buddhism. With over 1,500 monks, the Ganzi Monastery is the largest Gelugpa religious site outside of the Litang and Chamdo Monasteries in the Kham region. The halls and terraces of the monastery offer amazing views of the surrounding beautiful valley with its lofty hills and the bustling Ganzi town.
This 540-year-old monastery is adorned with a considerable amount of gold. The walls of the grand main hall are lined with hundreds of small golden Buddha statues (Sakyamunis) while an inspiring, large statue of the Maitreya or Future Buddha clad in a silk robes stands in a smaller hall to the west of the main hall. With many resident monks and devotees from the town and nearby areas circling the little chapels with giant prayer wheels, the temple is bustling throughout the day.
We will sleep in a hotel in Garze town.
5 → Garze - Dege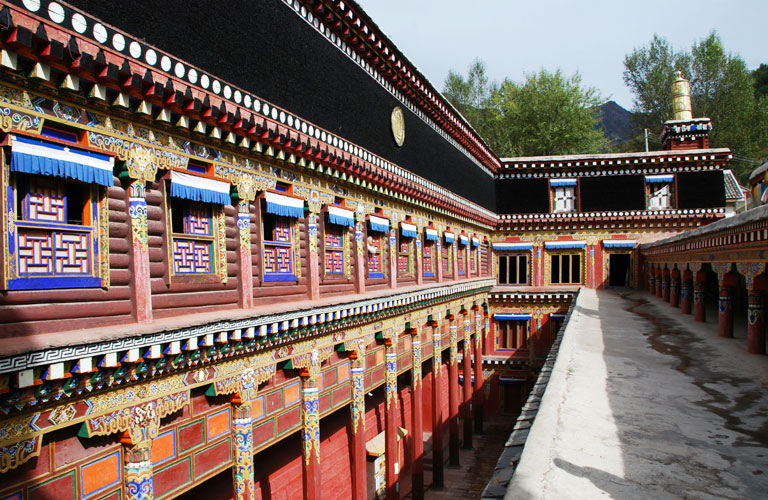 After a 184km drive we will explore the charming town of Dege.  Dege architecture is unique from all other places in Tibet because many of the homes here are multi-story log cabin style homes with hand hewned logs making up the exterior walls.  This differs greatly from the stone and mud architecture you see across the rest of the Tibetan Plateau.
The historic town of Dege makes up one of the five former great kingdoms of the Kham Tibetan area and many describe this town as the "the cultural heart of Kham". Dege sits in a narrow valley at 3100 meters (10,170 ft) surrounded by mountains and the Sèqū River 色曲河that runs through the town.
Today we will wonder through Dege town and have a chance to walk through Gonchen Monastery and do the outer kora above the monastery to a hill overlooking the town.
We will sleep in a hotel in Dege.
6 → Dege - Dzongsar
After breakfast we will visit the great Dege scripture printing house and Dege monastery. Dege Sutra-Printing House (Tibetan. Dege Parkhang), it was built in between1687-1738, the 12th headman and 6th dharma-raja of Dege. There are more than 200000 blocks of religious, historical, literature and art, medical, astronomical and calender-arithmetical book edititons in Tibetan in the printing house. The Printing house is the largest of the three big Sutra-printing houses in the Tibet. There are people still using the printing blocks to print scriptures in the house. So, we have a chance to learn about them.
After lunch, we will drive 90kilometers to Dzongsar along the Yangtze river. Dzongsar will be where we start our backpacking and trekking through the remote mountains of Sichuan
We will sleep in a hotel in guesthouse.
7 → Dzongsar Monastery and Handicraft Workshop
Today, in the morning we will visit the monastery, and in the afternoon will visit hand craft workshops in the town. There are a lot of family-owned hand craft workshop. We will have a chance to see how they make the traditional hand craft.
Here we will visit the historic Dzongsar Monastery.  Dzongsar Monastery is a Buddhist monastery in Dege County in the Garze Tibetan Automous Prefecture of Sichuan Province.  It was founded in 746, destroyed in 1958, and rebuilt in 1983.
The monastery belongs to the Sakya school of Tibetan Buddhism and was the main seat of Jamyang Khyentse Wangpo and Jamyang Kyentse Chokyi Lodro. However it is noted for its eclecticism of the Rime Movement and its openness to most of the teaching sects of Tibetan Buddhism across many different sects. The monastery is also known for its incense and sells it commercially as Dzongsar Tibetan Incense Powder and Dzongsar Tibetan Incense Sticks. The incense is made from precious, natural herbal materials from the highlands of Eastern Tibet and is said to have healing effects for the mind and soul and is thought have the ability to prevent infectious disease.
We will sleep in a guesthouse in Dzongsar.
8 → Dzongsar Retreat Center and Short Day Hike
Dzongsar is one of the most beautiful places for trekking, there are beautiful snow-capped mountains and rich forest, narrow and wide valleys with natural waterfalls, and also a lot of beautiful lakes at the elevation of over 4000meters.
After breakfast, we will go to a beautiful retreat center on a beautiful mountain where you have a great view of the snow-capped mountains, if you look down you will see the valley which is with forest both side and a river running between.
There are hundreds of nuns and monks at the retreat center. They are spending your whole life as dharma practitioners on this mountain. They are doing mediations and read the scriptures there. You have a chance to go close to see and experience their life. After a visit of the retreat center, we will get down the valley, we will drive half of the road and then walking into the beautiful valley whole afternoon. We will find several nomad huts and small lakes on the way. There are rare flora and fauna that you have never seen. The area is enriched by multi-biodiversity and surrounded by ranges of mountains.
Late afternoon, we will come back to our guesthouse, have dinner.
Day 9-12 → Dzongsar Trekking
Today we will depart on a 3 night/ 4 day epic trek in the valley of Rongmei, this is a beautiful valley full of forests; there are 18 alpine lakes in this area, most of them are above 4000 meters. We will also see a lot of wildlife as we are trekking into the valley deep into western Sichuan. There is no road for vehicles, to get in the valley is only by horse and on foot. But there are local nomads live there with their animals. We will visit them and to see their lifestyle in the remote valley.
We will be trekking and camping in this valley for three days. Here you will have a great time to connect the nature. You will enjoy this place if you like to be with nature. It is the best place to you take fa fully rest for your soul from the city life.
We will bring tents and food with us. We will prepare everything you need for a good trekking.
Day 12 afternoon we will come back to town and stay overnight in the town.
13 → Dzongsar - Garze
After breakfast in the guesthouse, we will drive to Garzi. We will drive along the Yangtza river first. Then we will drive through many mountains. It is a very beautiful driving road.
Sleep in a nice warm hotel in Garze.
14 → Garze to Kangding 363km
After a good sleep in the hotel in Garze City. We will drive to Kangding. It's a driving day again. But we will stop at many beautiful view places on the road. And we will play road trips games in the car.
Sleep in a nice warm hotel in Kangding.
15 → Arrive Chengdu
Today is the last day of the trip.
We will drive 5 hours to Chengdu and end the trip in the mid or late afternoon as we drop you off in Chengdu and say our goodbyes with a lifetime of memories.
Tour finishes as we drop you off in Chengdu.