What is Experiential Education?
Experiential education is a teaching philosophy that informs many methodologies in which educators purposefully engage with learners in direct experience and focused reflection in order to increase knowledge, develop skills, clarify values, and develop people's capacity to contribute to their communities.
Experiential educators include an extensively broad range of professionals such as: teachers, counselors, corporate team builders, therapists, challenge course practitioners, environmental educators, guides, instructors, coaches, mental health professionals and many more.
Many disciplines and settings utilize experiential education methodologies: outdoor and adventure education, non-formal education, place-based education, project-based learning, global education, environmental education, student-centered education, informal education, active learning, service learning, cooperative learning and expeditionary learning.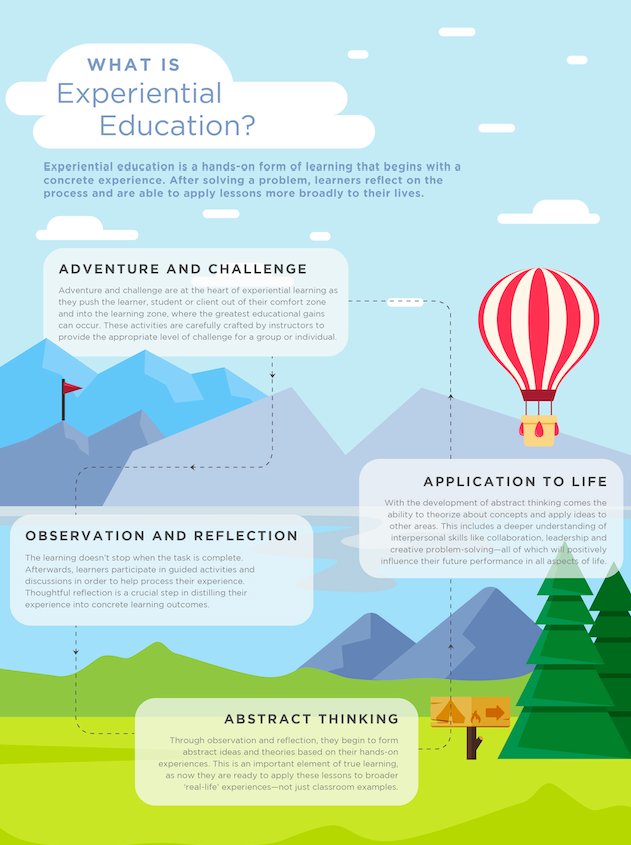 5 Benefits of Experiential Education
There are five primary benefits of actively engaging learners:
1. Experiential learning is powerful
While students may forget facts and figures soon after memorizing them, experiential learning is engaging and sticks. "Learning is a process that involves effort, mistakes, reflection, and refinement of strategies." That's proven neuroscience from Digital Promise.
Powerful personal learning experiences engage learners where they are and builds motivation. It connects what is learned to what is felt. It makes learning relevant and meaningful. It involves extended effort, mistakes, reflection, and refinement of strategies. In other words, experiential learning is holistic learning with the body, mind, and soul.
At Elevated Trips, we run outdoor adventure trips that allow students to engage real life questions from the classroom both by working outside the classroom as well as engaging the people, places, and peculiarities of their environment. The natural process in any outdoor activity means there are some mistakes and reflection.  This allows for greater heartfelt retention of lessons and activities.
We don't just study the anatomy of a yak or talk about textbook agriculture.  We actually get out and milk the yak and make fresh yoghurt by hand and then we eat the yoghurt we made. That is learning that will stay with you for a long time!
2. Experiential learning is personal. 
Meeting each learner where they are and inviting them into learning experiences builds agency. Asking students to reflect on the experience builds metacognition.
Our trips offer challenge and allow for students to put down the phone and look their neighbors proudly in the eye after a long, hard day working to accomplish something together. These relationships build trust and motivation that fuel a widening array of experiences.
3. Experiential learning is community-connected and creates global awareness. 
Place-based learning uses nature and village life as the classroom. It leverages local assets and partners in learning and connects local issues to global themes.
At Elevated Trips, our local hosts are a platform for understanding how communities work, for integrating classroom learning with the life of the world, for addressing global challenges, and cultivating the awareness to become socially responsible global citizens.
4. Experiential learning is integrated. 
With the chance to go deep, experiential learning is applied, relevant and integrated. A variety of experiences boosts transferability of learning.
Deep learning occurs best when students apply what they have learned in the classroom to answer relevant questions in the world. As our participants grow as individuals and team members, they address increasingly complex topics and begin to engage in design, problem-solving and collaborative service work.
5. Experiential learning builds success skills. 
Extended challenges build project management and collaboration skills as well as Initiative and persistence.
To contribute now and in the future, young people deserve experiential learning–community connected challenges that build agency and collaboration, that cross disciplines and result in public products that make real contributions.
See our 2019 Gansu Experiential Education Trip here with ISF Hong Kong,                          in partnership with the Hutong.
See our most popular experiential education trips with International Schools here 👇
Kurt Hahn: A New Look at Education
"There exists within everyone a grand passion, an outlandish thirst for adventure, a desire to live boldly and vividly through the journey of life."
-Kurt Hahn
"Confidence in effort, modesty in success, grace in defeat, fairness in anger, clear judgement even in the bitterness of wounded pride and readiness for service at all times."
-Kurt Hahn
Kurt Hahn (1886-1974) is most famed in experiential education circles for being behind the creation of Outward Bound in 1941, itself a response to a war dilemma, specifically the low survival rate of British merchant seaman in the Battle of the Atlantic.  See more about Outward Bound.
Hahn, however, should also be better known as a passionate and dedicated campaigner, and an educational activist for world peace.
The life story of Kurt Hahn
Born in 1886, the son of a wealthy German industrialist, Kurt Hahn was educated in Germany and then in Oxford, before World War I brought him back to Germany. His early interest in education as a force for good was crystallized by the destruction he witnessed during the war, and with the support of Prince Max von Baden, the last imperial chancellor in Germany, in 1920 founded Salem School in Germany, based on respect for the individual, responsibility to the community and an awareness of the importance of the democratic process in sustaining both. In 1933, Hahn was exiled to the UK after speaking out against the Nazis, and founded Gordonstoun School in Scotland, based on the four pillars of internationalism, challenge, responsibility and service. Hahn believed that school should be a preparation for life, not just for university, and that education should help students to develop resilience and the ability to experience failure as well as success.
The ideals of Gordonstoun were partly manifested in an enormous emphasis on outdoor activities, particularly seamanship and mountaineering. Hahn noticed that younger, stronger  seaman were having more trouble surviving wrecks at sea compared to their older, more experienced colleagues.  He thought this strange because it would make sense that the younger, more vigourous naval officers would weather a night in the open water better than their older peers.  After some thought, however,  that discovery lead Hahn to the conclusion that experience, not physical strength or endurance, was the number one indicator whether a navy soldier would survive an accident at sea or not. And so Kurt Hahn purposed his life to create in his programs challenging conditions that would give his students the character and determination and experience necessary to face and overcome any challenge- both in and out of the classroom.
In 1941, more and more convinced of the importance of learning outside the classroom, Hahn established Outward Bound, with a founding mission to give young people the ability to survive harsh conditions at sea by teaching confidence, tenacity and perseverance—some of the many skills and qualities we develop at Elevated Trips through our Outdoor Education program today. Fifteen years later, in 1956, Hahn founded the Duke of Edinburgh's award, which for more than 50 years has encouraged young people to challenge themselves through service, physical recreation and adventure. Since 2008, more than 300 of the College's students have achieved the Duke of Edinburgh's award, known internationally as the National Youth Achievement Award.
The founding of the  United World Colleges, or UWC, movement in 1962 was the culmination of Hahn's thinking about education. While attending the 1958 NATO Staff Conference, he was inspired by the cooperation he witnessed between former adversaries from World War II. He thought that if we could educate young people from around the world together, we could prevent future conflicts. From this belief in the power of education to change the world, the UWC movement was born, with a mission to make education a force to unite people, nations and cultures for peace and a sustainable future. In 1962, the first UWC, Atlantic College, was opened in Wales. UWC South East Asia, the second UWC College, was opened in 1971 as the Singapore International School, and so the story of UWCSEA began.
While Atlantic College and the UWC movement worked with the Geneva International School and the United Nations School in New York to develop the International Baccalaureate curriculum, Kurt Hahn went on to found the Round Square organization in 1967.
The legacy of Kurt Hahn
Hahn died in Germany in 1974. The entry in Britain's Dictionary of National Biography calls him "headmaster and citizen of humanity."
There is no doubt that Hahn had an enormous impact on the world of education.
He championed the importance of developing the whole person, and based his thinking on the ideals of a holistic, experiential, values-based education.
"I regard it as the foremost task of education to insure the survival of these qualities: an enterprising curiosity, an undefeatable spirit, tenacity in pursuit, readiness for sensible self denial, and above all, compassion." Kurt Hahn
The world is a very different place since Hahn founded the UWC movement over 50 years ago. But his educational philosophy, with a focus on academic achievement, leadership, experiential learning and service to others has remained, and will continue to provide our students with a unique learning experience for many more years to come.
Contact us here to learn more about Experiential Education in western China and Tibet