See our 1 day tour of Kumbum Monastery here
Introduction to Xining
Xining ( 西宁 Xīníng, ཟི་ལིང་། Ziling) is the capital of Qinghai province in western China, and the largest city on the Tibetan Plateau. As of the 2010 census, it had a popluation of 2,208,708 inhabitants. With so many people in Xining, it can be hard to know what to see and how to travel.  Elevated Trips wants to help you simplify all that so that you can see some of the best the high plateau has to offer without bumbling around and asking for directions in broken Chinese. 
Here is a little history to get you started on your tour. Xining was a commercial hub along the Northern Silk Road's Hexi Corridor for over 2000 years, and was a stronghold of the Han, Sui, Tang, and Song dynasties' resistance against nomadic attacks from the west. Although long a part of Gansu province, Xining was added to Qinghai in 1928. Xining holds sites of religious significance to Muslims and Buddhists, including the Dongguan Mosque and Ta'er Monastery. The city lies in the Huangshui River valley, and owing to its high altitude, has a cold semi-arid climate. It is connected by rail to Lhasa, Tibet and connected by high-speed rail to Lanzhou, Gansu and Ürümqi, Xinjiang.
Inside Kumbum Monastery
Kumbum Monastery houses over 800 monks and is a wonderful, brightly colored architectural complex that contains 9,300 rooms and 52 halls, including Buddha halls, scripture halls, Buddhist pagodas and lamas residences. The monastery is actually comprised of several temples, scripture chanting halls, Buddhist pagodas and monk housing, and incorporates both Tibetan and Han Chinese architectural styles.
Tsong Khapa was born in this place and it is said that his mother buried her placenta here after giving birth to her son and a tree grew up in the middle of the courtyard which bears leaves that hold mystical Tibetan letters. In order to commemorate Tsong Khapa (1357-1419), founder of the Yellow Hat Sect, the Kumbum Monastery was built in 1577 more than 150 years after his death. Now it is considered a sacred place in China.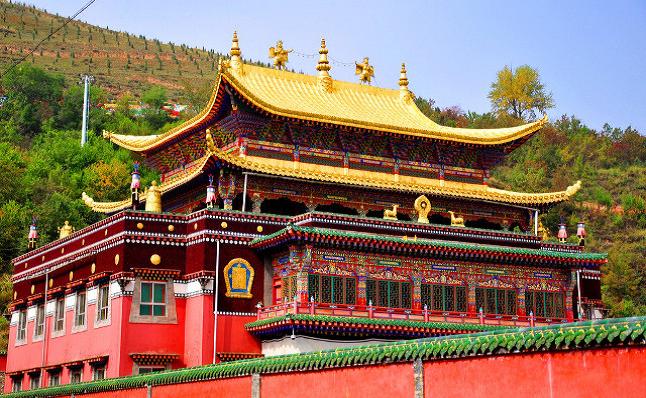 Meaning of "Kumbum"
In the Tibetan language, Kumbum means '10,000 statues of Buddha'. During its long 400 years of history, it has gradually become a place of interest for its distinct ethnic color and native style. The whole area covers more than 144 thousand square meters (about 36 acres) with mountains surrounding it.
Kumbum Monastery is grand and imposing and is one of the famous six big lama temples in western China and Tibet (the other five temples are Tibet's Sera monastery, Drepung monastery, Tashilhunpo monastery, Ganden monastery and the Labrang monastery in Gansu province0).  Kumbum enjoys a high reputation throughout the country and all of Southeast Asia.
Getting There and Entrance Tickets
Kumbum Monastery is 25km, 40 minute drive from Xining's downtown area.  We recommend hiring a taxi for the day so the car can drop you off and wait for you at the monastery.  Parking can be a nightmare at the monastery in the high season (July and August and October 1-8) so you will be happy if you hire a car and all of that driving and parking is already taken care of.
The entrance ticket is 80 RMB per person, although if you have a student ID you can probably get a discount.