The Following is information from the Lonely Planet website on travel in China and Tibet
To see more detailed information on the Tibet Travel Permit and why it is needed to enter Lhasa see our new blog here.
To see possible travel itineraries in Tibet, see here.
Tours & Tibet Travel Permits
To board a plane or train to Tibet you need a Tibet Tourism Bureau (TTB) permit (aka Tibet Travel Permit) , and to get this you must book a guide for your entire trip and pre-arrange private transport for trips outside Lhasa.
Travel outside Lhasa requires additional permits (such as those for Everest Base Camp or other monasteries outside of Lhasa), arranged in advance by your tour company, so you need to decide your itinerary beforehand.
Foreigners are not allowed to take public transport outside Lhasa – you must be in a private group van, bus, or car that has been arranged by a travel agency.
Tour companies need 14 days to arrange permits and post you the Tibet Travel permit (the original Tibet Travel permit is required before entering Lhasa if flying from within China).
When entering Tibet from Nepal you have to travel on a short-term group visa, which can make it tricky to continue into the rest of China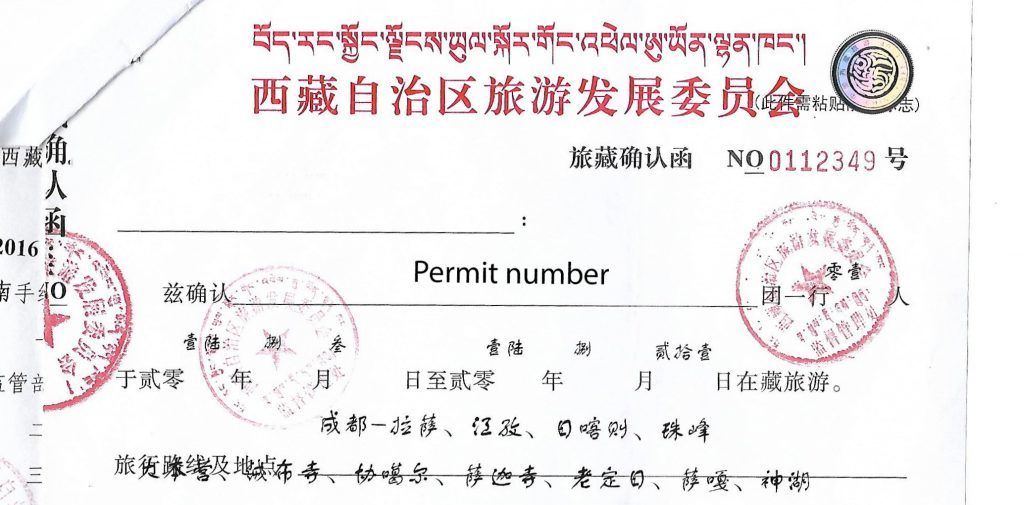 Customs Regulations
Chinese border crossings have gone from being severely traumatic to exceedingly easy for travellers. You are unlikely to be checked even when flying into or out of the country.
You can legally bring in or take out ¥20,000 in Chinese currency and must declare any cash amount exceeding US$5000 or its equivalent.
It is illegal to import any printed material, film, tapes etc 'detrimental to China's politics, economy, culture and ethics'. This is a particularly sensitive subject in Tibet, but even here it is highly unusual to have Chinese customs officials grilling travellers about their reading matter. Maps and political books printed in Dharamsala, India, could cause a problem.
It is currently unadvised to bring into China pictures, books, videos or speeches of/about international politics, especially anything mentioning Tibet. Moreover, you may be placing a recipient of these in danger of a fine or jail sentence. Images of the Tibetan flag or various other Buddhist monastic leaders are even 'more' illegal. In general- have a good time in China and Tibet but don't talk politics or post about it on your social media.  Such actions could bring unintended consequences to your hosts or guides or drivers.
If travelling from Nepal to Tibet by air or overland, it's a good idea not to carry a physical Lonely Planet book in your luggage as customs officials have been known to confiscate Lonely Planet Tibet guides.
Be very circumspect if you are asked to take any packages, letters or photos out of Tibet for anyone else, including monks. If caught, you'll most likely be detained, interrogated and then expelled.
Anything made in China before 1949 is considered an antique; you will need a certificate to take it out of the country. If it was made before 1795, it cannot legally be taken out of the country.
Passports
Chinese embassies will not issue a visa if your passport has less than six months' validity remaining. Make sure you have enough validity left on your passport before applying for a visa or traveling in and out of the country.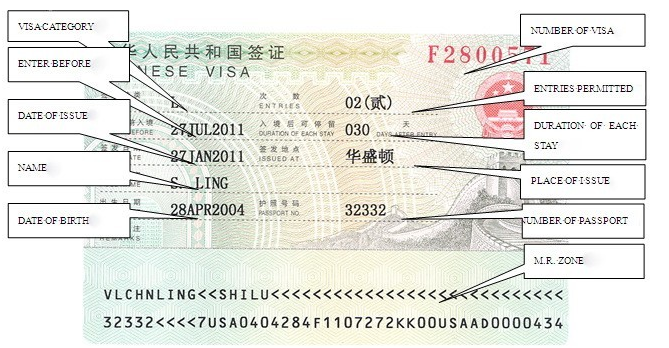 Visas
A valid Chinese visa is required. A Tibet Tourism Bureau (TTB) permit – aka Tibet Travel permit – is also required to enter Tibet.
Arranging a Chinese Visa
For more information on what materials you need for Chinese Tourist Visa, see here.
Visa regulations for China are subject to change, so treat the following as general guidelines. In 2013 the visa system had a major overhaul and there are now 13 categories of visa.
Apart from citizens of Brunei, Japan and Singapore (for stays of less than 15 days), all visitors to Tibet require a valid China visa. Visas for individual travel in China involve jumping through some hoops but are usually routine to get from most Chinese embassies or their associated visa centres.
Most visa offices will issue a standard 30-day (sometimes 60- or 90-day) single-entry tourist ('L' category) visa in three to five working days. The 'L' means lǚxíng (travel). Fees vary, as do durations: UK citizens pay £85 for a multiple-entry L visa, normally valid for one or even two years, Americans pay US$140 for a multiple-entry visa (often valid for up to 10 years), while most other countries' citizens pay US$40.
In many countries the visa service has been outsourced to a China Visa Application Service Centre (www.visaforchina.org), which levies additional charges that can effectively double the price.
The visa application form asks you a lot of questions (your entry and exit points, travel itinerary, means of transport etc), but once in China you can deviate from this as much as you like. This information is just to make sure you get your visa. When listing your itinerary, pick the obvious contenders: Beijing, Shanghai, Chengdu and so on. Don't mention Tibet and don't list your occupation as 'journalist' or as anything vaguely religious. These words will flag your visa application and may result in a denied visa. For your visa application you likely will need to show proof of a return air ticket in and out of China, hotel bookings within China and photocopies of previous Chinese visas. You must also have one entire blank page in your passport for the visa, as well as a passport valid for at least six months.
Most visas take four working days to be issued, assuming all your documentation is in order. Express services are normally available for an extra fee.
Note that you must be physically present in the country you apply in (ie you cannot send your passport back to your home country if you are staying somewhere else).
Some embassies and visa services offer a postal service (for an additional fee), which takes around three weeks. In the US and Canada mailed visa applications have to go via a visa agent, at extra cost. In the US many people use China Visa Service Center(www.mychinavisa.com). Express services are available for a premium.
A standard single-entry visa must be used within three months from the date of issue and is activated on the date you enter China. There is some confusion over the validity of Chinese visas. Most Chinese officials look at the 'valid until' date, but on most 30-day visas this is actually the date by which you must have entered the country, not the visa's expiry date. Longer-stay visas are often activated on the day of issue, not the day you enter the country, so there's no point in getting one too far in advance of your planned entry date. Check with the embassy if you are unsure.
It's possible to travel in Tibet with a tourist ('L'), student ('X'), resident ('D') or business ('M', 'F' or 'Z') visa, but not on a journalist ('J') visa. For an M, F or Z visa the agency handling your TTB permit may ask you to provide documentation showing your place of work in China, or a letter of invitation.
Arranging Visas in Hong Kong
Hong Kong is usually a reliable place to pick up visas, often with next-day service, but confirm with the companies listed here before you decide this is the route you will take to obtain a visa.
Single-entry, double-entry, multiple-entry and business visas are usually available at the following places in Hong Kong. For reference, a single-entry L visa costs HK$200 for three-day service, HK$500 for next-day service, but varies according to nationality.
China Travel Service With several locations.
Arranging Visas in Kathmandu
The Chinese embassy in Kathmandu does not issue visas to individual travellers, only to those booked on a tour and then only paper group visas (not a stamp in your passport). If you turn up with a Chinese visa in your passport, it will be cancelled.
Nepali agencies currently charge around US$85 per person for a group visa. US/Canadian citizens pay US$177/135. Allow at least three working days for processing; faster service is sometimes available for a premium but not at the time of research. The embassy needs your actual passport, so you need to budget four or five days in Kathmandu before your Tibet trip. You will need to have a visa invitation letter issued from your Tibetan agency before you can apply for a Chinese visa.
Group visas are issued for the duration of your tour. If you are continuing on to China after your tour you can request your own individual 30-day group visa.
The visa office at Nepal's Chinese Embassy accepts applications from 9.45am to 11am Monday to Friday. Note that the main embassy is in Baluwatar, but the separate visa office is in Hattisar. Your Nepali agent (or the agent of your Tibet tour company) will make the application for you.
If you are flying from Kathmandu directly to Chinese cities outside Tibet (ie Chengdu or Shanghai), you can enter China on an individual tourist visa issued from abroad. Thus if you want to continue travelling in China after your Tibet trip for a trip longer than 30 days, the easiest thing is to fly from Kathmandu to Chengdu and then on to Lhasa with your TTB permit and on your normal Chinese visa.
Visa Extensions
The wàishìkē (foreign affairs) section of the local PSB handles visa extensions. Extensions are very difficult to get in Tibet, so don't count on one. It is far easier to extend your visa in other areas of China such as Chengdu, Xining or Xi'an, where a 30-day extension is commonplace.