Here is the short backpacking gear list you can print out if you want to make sure you have everything you need before you go out into the wilderness.  I recommend that even experienced backpackers use a list (even if it is not this one) to double check before you head out because in a busy world we all can forget things, even if we have a lot of experience.
The Big 3
Backpack, 50-70 Liters
Tent (You are probably looking for a 1-2 person ultralight 3-season backpacking tent around 2.5 to 4 pounds in weight.)
Sleeping Bag (I recommend a down sleeping bag rated to 20 F or -6 Celcius.)
Other Gear
Sleeping Pad – either a foldable foam pad or an inflatable pad
Trekking Poles
Headlamp
GPS or Communication Device
First Aid Kit
Camp Kitchen and Cooking
Cooking Stove
2 Lighters or Matches
Cooking Fuel (make sure you have enough days of fuel)
Water Bottles (at least 2 x 1 liter bottels)
Water Filter
Water Filter Backup (something like a few iodine tablets)
Camping Mug for hot drinks
Spork
Knife
Toiletries
Lip Balm
Sunscreen
Toothpaste
Toothbrush
Trowel
Toilet paper and plastic bag
Baby wipes
Backpacking Clothes
Down puffy jacket
Waterproof Rain Jacket
1 x Top Base  Layer
1 x Bottom Base Layer
1-2 x Wicking Hiking Shirt
Athletic or Hiking Shorts
Sport Bra (for women only)
Quick Dry Underwear
3 x Pairs Merino Wool Hiking Socks
Hiking Boots or Trailrunning Shoes
Camp Shoes (like Crocs or Sandals)
Sun Hat
Sunglasses
Gloves (if you are expecting cold)
Winter hat (if you are expecting cold)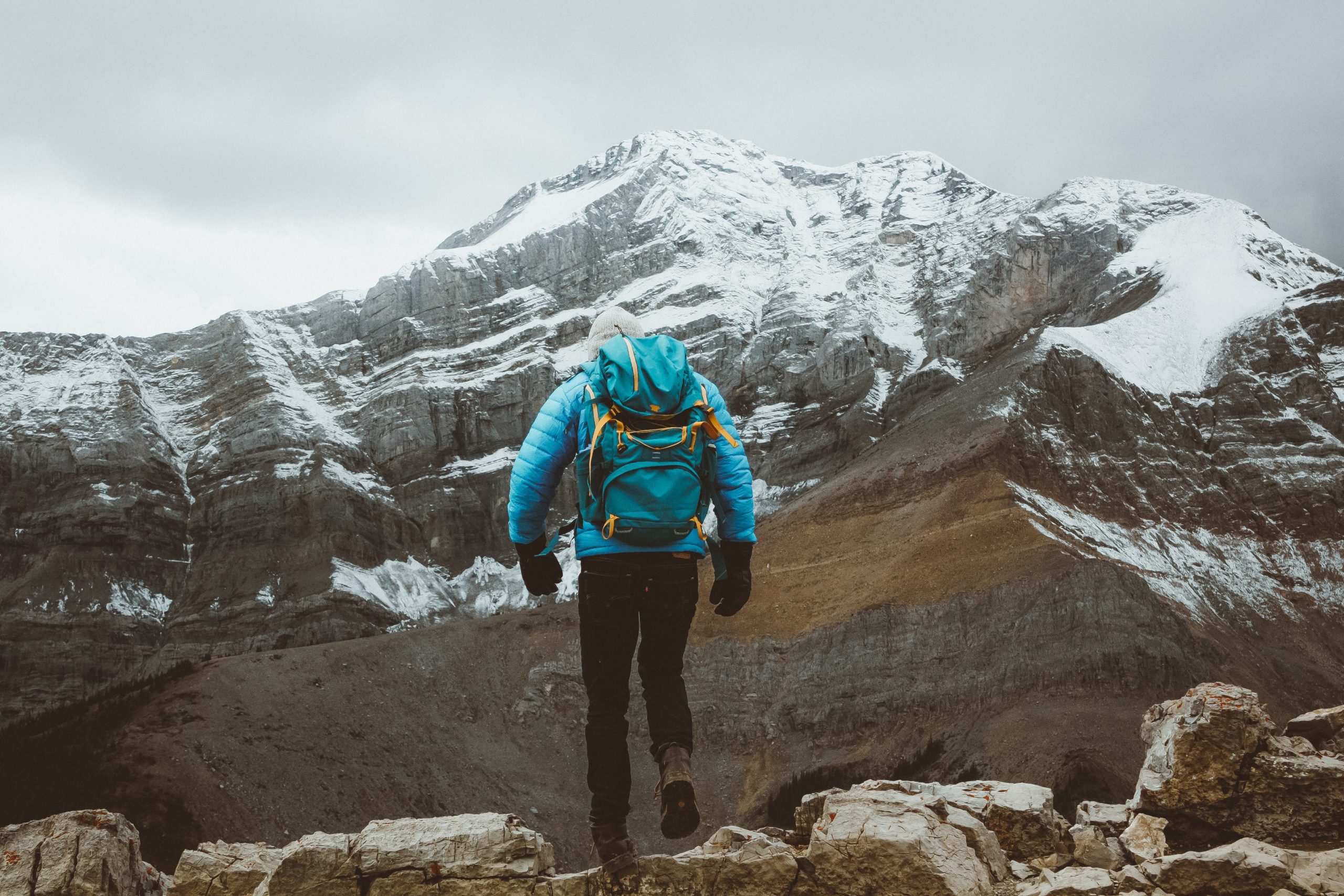 Now I will explain these items in more detail and give my recommendation on which items to use if you are looking to start out out backpacking on a 2 to 3 night expedition in the wilderness..
Backpacking Essentials
In Backpacking we refer to the BIG 3.  These "Big 3" are the big ticket items you will need to buy to get out and camp for multiple days.  These items include:
1.) Your Backpack
2.) Your Tent
3.) Your Sleeping Bag
For a multiple day backpacking trip, you are going to want a backpack that is somewhere between 50 to 70 Liters. If you bring a backpack that is bigger than this you will likely bring too much stuff as people have a tendency to fill the entire backpack.  If your backpack is under 50 Liters, you likely will not have enough room to put in your tent, your sleeping bag, your clothes and 3-4 days of food and cooking supplies.  Generally a well packed backpack that is full of food, water, and all your gear for a 2 night/3 day trip is going to weigh   somewhere between 25 to 40 pounds.
I've tried many backpacks, and funny enough, the cheapest one I've owned has also been my favorite. Deuter is known for packs that are reasonably priced, while still standing up to nature's elements. At 3 lbs. 14 oz., the Deuter ACT Lite 60 + 10 SL Men's Pack weighs 2 pounds less than my old Gregory backpack, and it seamlessly molds to my body. Deuter's Lite series packs can adjust for a variety of torso lengths and also comes in a women's model. The 60 +10 SL pack is plenty big for a multi-day trip, and in fact, this is the pack I will be taking along on my 25-day hike on the John Muir Trail. 

This is a must for any multiple day backpacking gear list. As for tents, most general backpackers are going to be in the market for a 3 season ultralight or super light backpacking tent.  I say 3-season because I want to differentiate these tents from the special 4-season tents that are designed for winter mountaineering.  These 4-season tents are designed to withstand the high winds on snowy mountains like Mount Everest and Mount Kilimanjaro and are heavily reinforced with more poles and ropes for high altitude extreme environments.  Most general backpackers do not need anything so heavy and extreme as these 4-season mountaineering tents.  So stick with a nice, light 3 season tent.  You can go to Walmart or Decathlon and find lots of 10-15 pound tents that are great for car camping. You can throw these tents in the back of your car and then pitch them right next to your car so it does not matter that they are heavy and are as big as your leg.
But for our purposes, you will be carrying your tent on your back (not just in a car) for a few days so you are going to want something in the 2 to 4 pound range as far as pack weight.  Remember- you will be carrying this tent on your back for 8 hours everyday so you are going to be thankful to spend a little extra money here to get rid of a few pounds of weight in your backpack.  Here is an awesome website that gives all the most popular 1-2 person backpacking tents of 2020 and compares their weights and prices:
https://www.switchbacktravel.com/backpacking-tent-weight-comparison-chart
Before you buy your tent you will need to decide if you want your tent to be a 1 person or 2 person.  Obviously if you are hiking with a partner, you are going to opt for the 2 person tent and then you can share the poles and fabric between you and thus decrease your overall pack weight.  A one person tent tends to be very narrow and is usually big enough for exactly 1 human body width and nothing else (which means your backpack will need to be stored outside the main tent wall, usually under a vestibule).  This may be all you need and it certainly offers some savings on weight over a 2 person tent.   But I personally feel a little cramped in a 1 person tent – to me it feels like a coffin.  Some solo hikers (including myself) like to carry a 2 person tent because they find it to be more comfortable and it has more room to move around to change clothes, place your backpack inside the tent, and even cook from the comfort of your tent (with the stove outside the flap of course).
In the backpacking world, you will hear of people who also carry a tarp or a tarp tent. This is essentially the "rainfly" part of a tent that is not fully enclosed and sets up with your hiking poles instead of it's own internal pole system.  Generally these tarps are just a "roof" of a tent and do not contain a floor or any other protection from the ground.  The obvious advantage here is a tarp is a lot lighter than a fully enclosed tent system with its extra poles and fabric.  So you can shave off 3-4 pounds here by carrying a lighter and simpler tarp that gives you sufficient protection from falling rain and snow.  But, as with all backpacking gear decisions, what you gain in regards to a lighter, more comfortable pack weight during the day, you will lose in comfort while at camp at night.  Some people prefer the full enclosure from a proper tent to protect them from bugs, snakes, and other things crawling on the forest floor.  Fully enclosed tents also offer better protection and warmth from wind and heavy rain that might run or get blown into an otherwise open-air tent. For our purposes, we are recommending a fully enclosed tent because we think if you are a beginner backpacker, you will probably relate a little more to this more traditional style tent.
The MSR Hubba Hubba Tent has been around for over 10 years, and this year's new model is a great compromise between durability and weight. It has a non-tapered design so you have just as much room on both ends of the tent and poles recently got a strength upgrade. Other features include Xtreme Shield waterproof coating, rainfly vents which help reduce condensation, and the rainfly can be partially rolled up for extra air flow even while it's raining.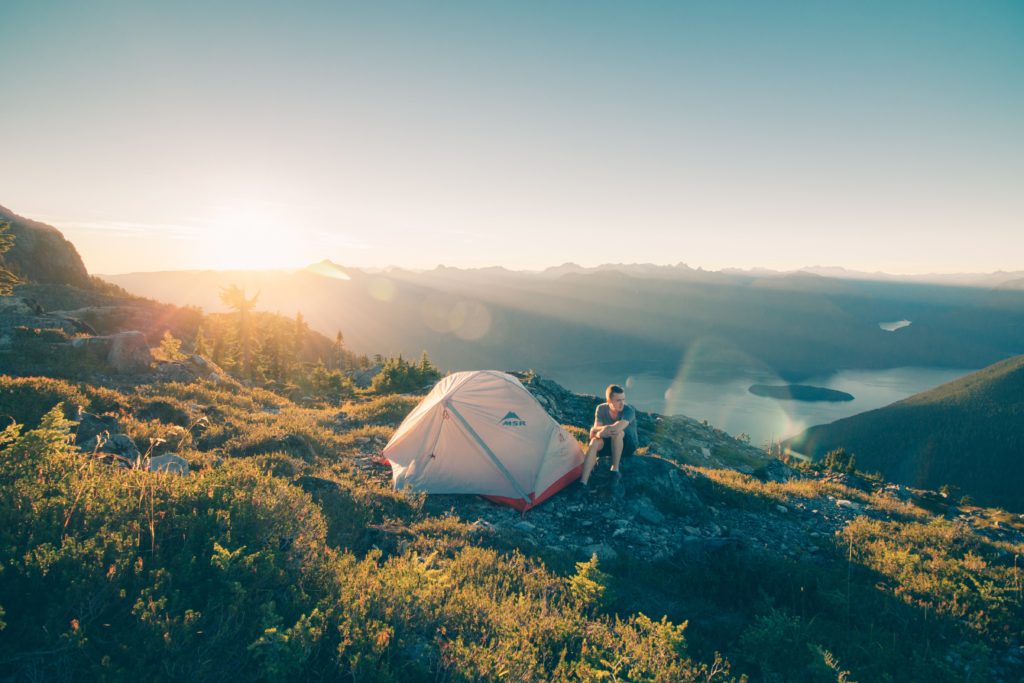 With sleeping bags you are probably going to want something that is rated to 20 degrees Fahrenheit or -6 degrees Celcius. This will generally serve you well in most general  weather unless you are camping in the winter or traveling over 3,500 meters in elevation.  Also if your body gets cold
In general we recommend a down sleeping bag for your backpacking gear list because they compress to half the size of a synthetic sleeping bag material and are warmer.  The only negative side of down sleeping bags is that the feathers inside will not warm you very well when they get wet and they tend to be 1.5 or 2 times as much as comparatively cheaper synthetic sleeping bags.  You can buy a synthetic sleeping bag if your budget is tight.  But you can also expect that bag to be at least as big as a basketball when stuffed into it's stuff sack.  And that just means less room is available in your backpack.
After some very cold camping in the high altitude areas of Tibet this spring, I decided to upgrade to a warmer sleeping bag. The Western Mountaineering Versalite 10 Degree Down Sleeping Bag was the warmest I could find for its mere 2 pounds. With its 850 down rating (generally the highest quality of feathers you can find in a sleeping bag)  you can use a compression sack to store your bag in your pack, the sleeping bag takes up very little room (something maybe the size of 2 rolls of toilet paper).  This bag is on the very expensive end compared to other bags in the market, but if you take care of nice products like this they can last 10 to 15 years and will serve you well for a long time.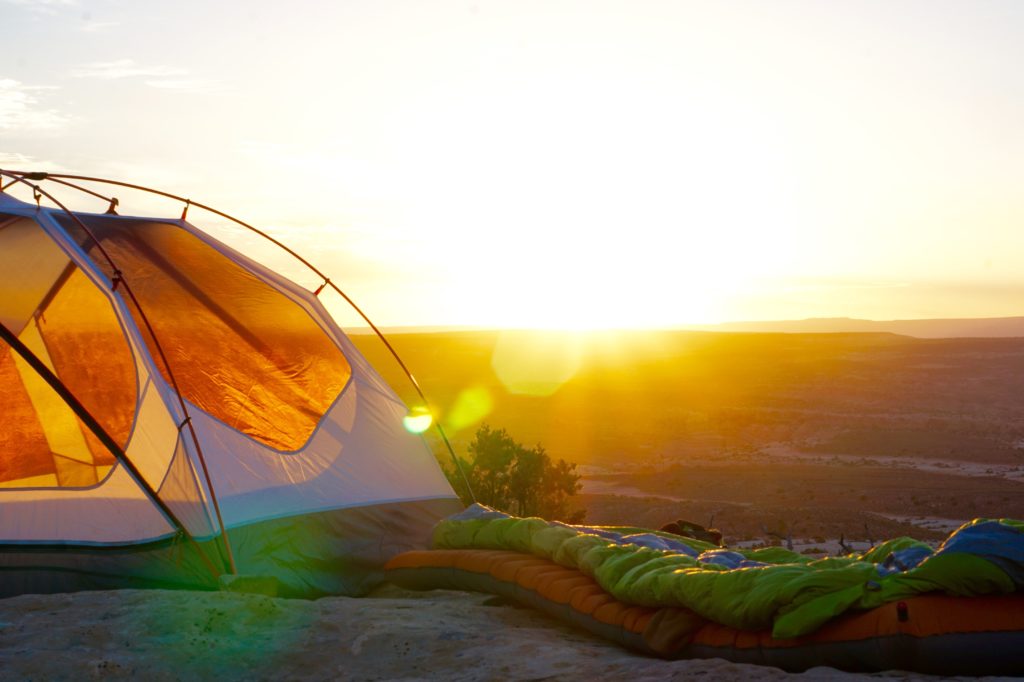 In addition to the Big 3 you are going to want to pack these things
When camping you are not going to want to sleep on the hard ground, so you are going to want a pad to put under you as a mattress.  These sleeping pads come in various forms from foldable foam pads that can be $15 to $50 USD to very expensive inflatable pads that can run from $100 to $200 USD.  As with most backpacking gear, you will be paying more money for something that is lighter and more compressible, whereas cheaper items will be larger and may take up more room in your pack.
Thermarest makes good pads as does Big Agnes.  But I suggest this NEMO Tensor Sleeping Pad for your backpacking gear list because it is both warm and very cushy. It's the lightest pad I've ever owned and way comfier than some of the other ultralight pads I've tried. I really like its rectangular design which helps prevent you from sliding off in the middle of the night (weight: 13.5 oz).
When you are working on getting to the top of the mountain, trekking poles will help take some of the weight off your hips and legs by utilizing your arm strength as you push up on the poles. On the downhill, they help ease the constant jarring on your knees as you continuously descend down through a series of rocks, stairs, and drop offs. And if you happen to be crossing a stream, hiking poles will give you the balance you need to not be swept down river in the current. These Black Diamond Distance Carbon Z Trekking Poles are Black Diamond's lightest foldable poles made of carbon fiber and come in 4 sizes to meet your height  (weight: 9-10 oz depending on size).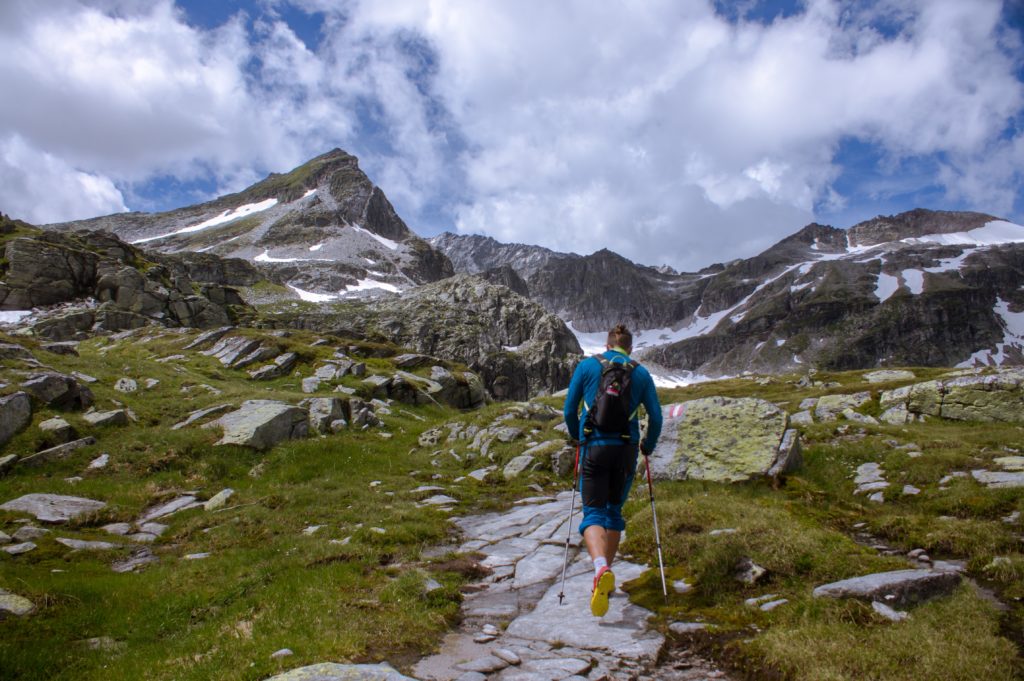 Backpacking Electronics And Medical Kit
The Black Diamond ReVolt Headlamp has multiple settings, including ultra bright and red night vision – which comes in handy when you want to have a conversation without blinding your friends. It also has a locking mechanism to prevent it from accidentally turning on in your bag. You can also charge this headlamp on solar if you are using BD's rechargeable batteries (weight: 4 oz).
I like to carry a tracking device with me that I can use to send a help signal in case of an emergency. The SPOT is super simple and gives me peace of mind and allows you to send pre-drafted text messages, as well as a call for help.
The Garmin InReach has more features in a slightly bigger packages. It allows for two-way custom texting and also has GPS that you can use for navigating. I know prefer the Garmin due to these additional features.
You should always have a first aid kit when you are hiking in the backcountry. This ultralight, waterproof medical kit comes with the minimum supplies that you will need to address minor wounds, as well as some travel packs of some handy medications. In addition to what comes in this kit, you should supplement it with some extra blister band-aids and any medications that are specific to the hikers in your group.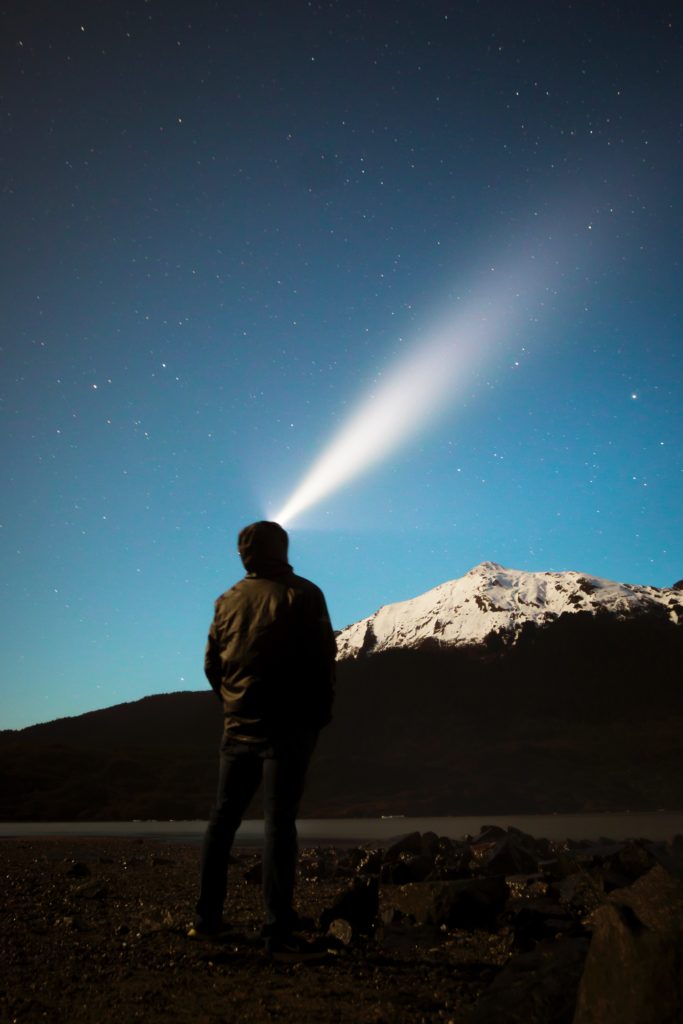 Backpacking Kitchen And Cooking Gear
The Jetboil MiniMo Cooking System is the most efficient backpacking stove I've found, especially if you are only boiling water. Where the MiniMo shines is that it gives you greater simmering control than previous versions of the Jetboil. Together the stove and pot weigh 14 oz.
For a 3-day trip, 1 230-gram fuel canister should be enough if you are using your stove for coffee, oatmeal, and dinner.
I prefer these lightweight Platypus Soft Bottles that can be rolled up when they are empty. Depending on water availability, I will bring up to these of these on my backpacking trips.
The Platypus GravityWorks Water Filter System is absolutely the easiest way to filter your water in the backcountry. This Platypus filter relies on gravity to push water through, eliminating the need to pump water by hand – meaning you can save your energy for the hike. At 11.5 ounces you will barely notice this thing in your bag, and what's really cool is you can connect the hose directly into your water bottle or any standard hydration reservoir.
It's always good to carry a backup in case your water filter fails. These Katadyn Micropur Purification Tablets tablets are great because they are super small and you can just throw a few in your first aid kit.
You need something for that morning coffee or evening whiskey hot apple cider.
A girl's gotta eat. Ramen, backpacker meals, oatmeal. This Snow Peak Titanium Spork is the only utensil you need, and it weighs shockingly little at less than 1 ounce! It also has a long handle and can easily reach the bottom of that Mountain House bag.
Some people like to carry a multi-tool, but personally I've always been able to get by with a small knife. This Gerber Paraframe I Knife can cut paracord or salami and only weighs 2.6 oz.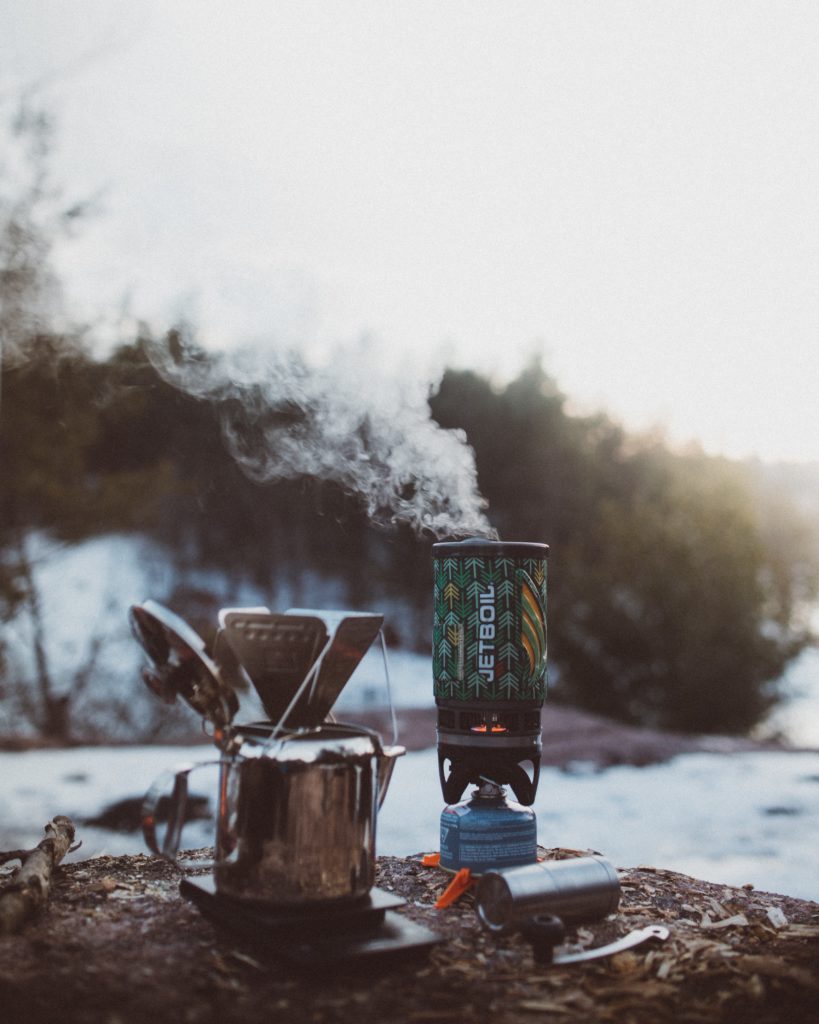 Backpacking Toiletries
The mountains can suck the moisture right out of those beautiful lips leaving them cracked and dry. My go-to lip balm is Jack Black Intense Therapy Lip Balm with SPF 25 in the natural mint flavor. It goes on clear and also provides sun protection.
At high elevations you can burn way quicker than you think. This Thinksport Sunscreen comes in a small tube, is water resistant, and provides SPF50.
TOOTHBRUSH
In order to comply with Leave No Trace, when you go #2, you need to dig a cathole that is at least 6-8 inches deep. You may think "I don't need a shovel…I'll just use a rock." I've made that mistake myself only to find that sometimes the dirt is super hard, you can't dig a hole, and then panic ensues. This GSI Outdoors Cathole Sanitation Trowel is so cheap and light there is no excuse to not throw it in a ziplock and bring it with you.
 TOILET PAPER and PLASTIC BAG
When you go #2, you need to pack out your dirty TP. Ewww. I know. But there's nothing grosser than finding a bunch of used dirty TP when you are camping. I like to bring a ziplock bag for my TP and then I store that in a small (not-see-through) stuff sack.
Cora make Individually Wrapped Bamboo Body Cloths that are safe to use all over, from your nether regions to your stinky armpits. They are chemical free and made with plant-based moisturizers & essential oils. Simply wipe as needed, store in the wrapper and put it in your ziplock trash baggie.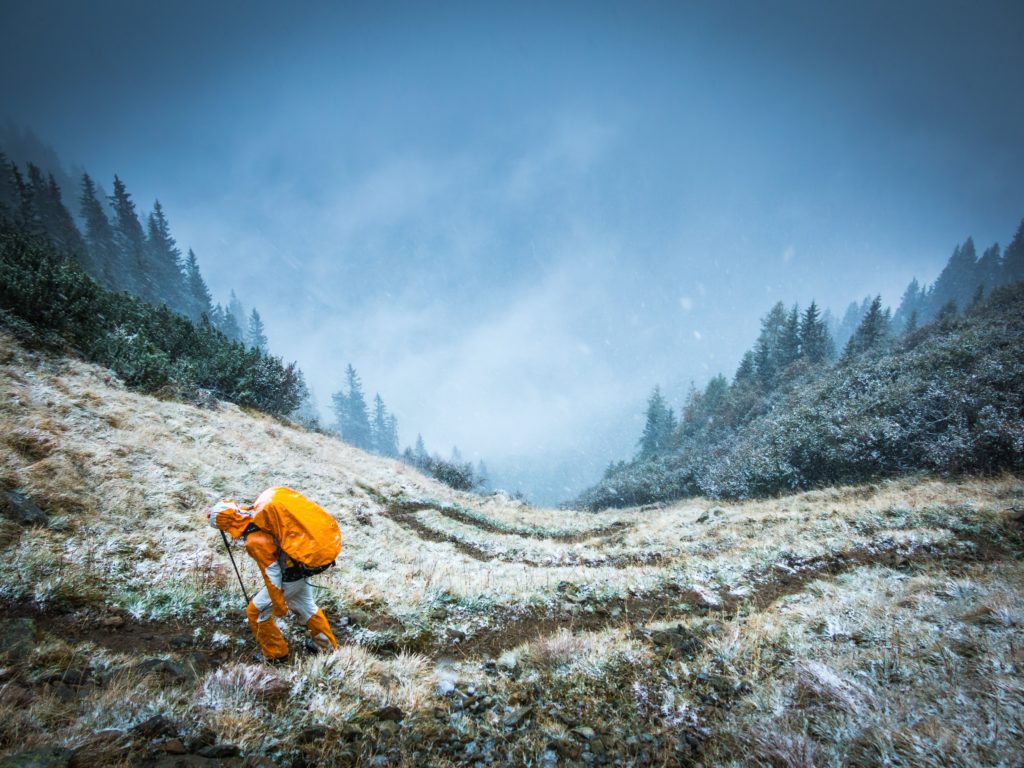 Backpacking Clothing
How many pairs of clothes should be on your backpacking checklist? The absolute minimum. Avoid cotton which retains moisture and smells and opt for quick dry material. The only thing I really bring extra of is underwear and socks and maybe an extra shirt depending on how many days I'm hiking.
Check the weather before you go. Even if it's looking like nothing but sun, I like to bring a lightweight rain jacket since the weather can change so quickly in the mountains. Arctertyx is expensive, but one of their rain jackets should last you a liftime of backpacking. If there is any chance of showers, I throw in a pair of rain pants too.
I like to hike in leggings. These Prana High Waisted Leggings are comfy for hiking and can double as pajamas.
I've tried MANY pairs of outdoor type underwear, and these are my favorites.
I usually carry between 2-3 pairs of these on a longer hike. Make sure you leave at least one pair of socks for your warm, dry, cozy sleeping at night.  If your other pair is wet make sure you put those on during the day. It is not a lot of fun to put on wet socks in the morning, but there is a pretty good chance that they will get wet again.  So you can have one pair of socks for the days and one dry pair of socks for the nights. That was two years ago, and I'm still wearing these socks on the reg today. Darn Tough socks and Farm to Feet Socks provide excellent quality and last a long time.  Both of these brands also guarantee their socks with a lifetime warranty and will replace usually for free if you send your socks back to the manufacturer.
These are lightweight but still provide some structure and grip for walking around at camp at night. Plus you can wear socks with them and look super fashionable.
SUN HAT
SUNGLASSES
WINTER HAT (depending on temps)
WINTER GLOVES (depending on temps)