See some of our tours to Qinghai Lake here:
3 nights / 4 days of horse trekking and hiking around China's largest lake. See it
here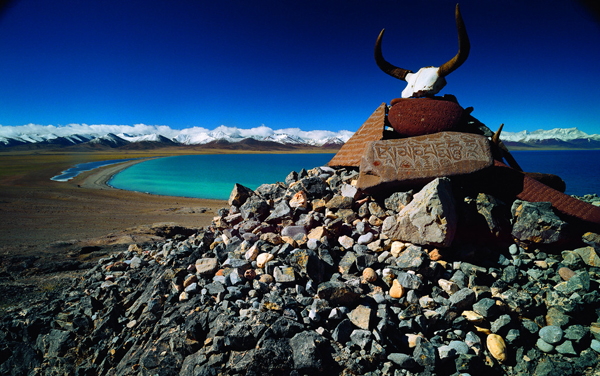 9 nights / 10 days exploring the wild regions of Amdo and Golok Tibet at the source of the Yellow River. See it
here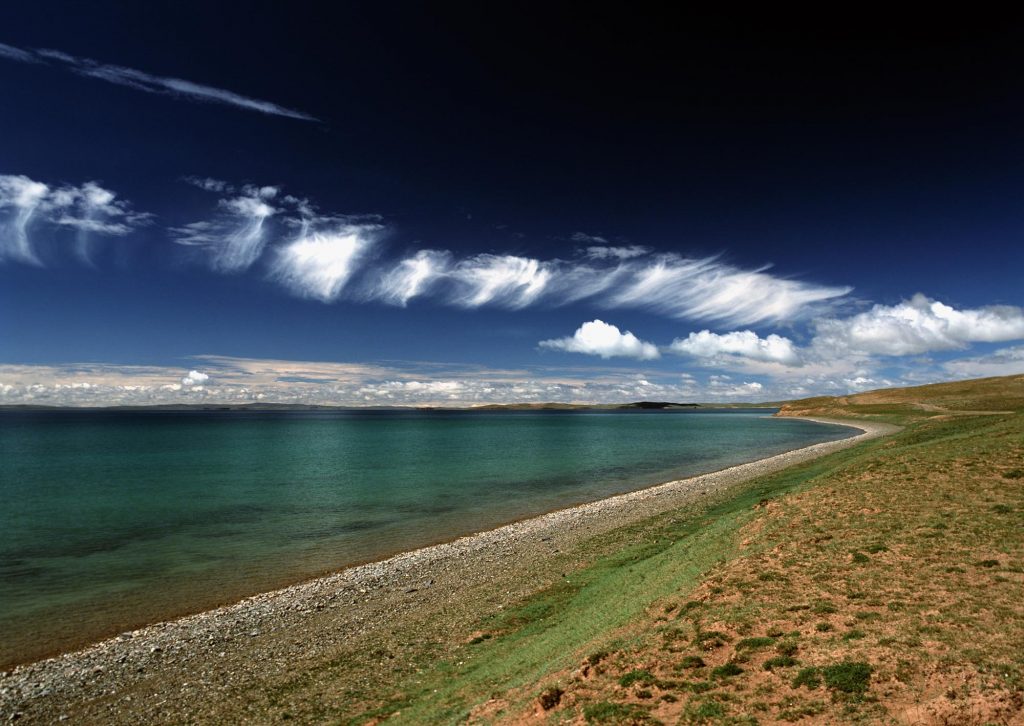 6 nights / 7 days cycling the 360km road around the lake and exploring nomadic Tibetan culture.
Introduction
As the largest saline lake in China,
Qinghai Lake
, historically known as  KokoNor, is situated in  the northeast corner of Qinghai Province. The names "Qinghai" and "Kokonor" both  reflect the vast beauty of the lake and both mean "Blue Sea" in Standard Mandarin and Mongolian respectively. Twenty-three rivers and streams empty into Qinghai Lake, most of them seasonal. Five permanent streams provide 80% of the total influx.
Geography
Situated in the Northeast of
Qinghai Province
 and with an area of 4,489 sq.km (988 ac.), it is twice as large as the famous Tai Lake. It is a beautiful lake not only for its scenic spots, vast views, and beautiful islands and but also for the lively Tibetan culture surrounding the lake shore. Located in the northeast of 4,500-meter-high (14,764 ft.) Tibetan Plateau, Qinghai Lake can look like a bright reflective mirror calmly seated between the vast grasslands and surrounding snow mountains.
Qinghai Lake is 105 kilometers long, 63 kilometers wide and 3196 meters above sea level. The lakeshore line is 360 kilometers long and covers an area of 4583 square kilometers. It is the largest inland lake and saltwater lake in China. The lake is surrounded by four high mountain ranges, each with high peaks between 3,600 to 5,000 meters in elevation: Datong Mountain to the north, Riyue Mountain to the east, Qinghai Nanshan Mountain to the south, and Rubber Mountain to the west. The average temperature in the summer season is only 15 °C, making it a natural summer vacation destination for many people trying to get out the summer heat of Beijing and Shanghai.
If you are looking for great opportunities to hike these rugged peaks that have seen virtually no foreign or domestic tourists you can check out information here
History
Qinghai Lake is an important place in history which has been the traditional meeting place between Mongolian and Tibetan cultures.
In the 7th century AD Princes Wensheng traveled 3 years from Xi'an (the capital of China at the time) to Lhasa to marry King Tsongtsen Gompo.  Princess Wensheng traveled through Qinghai Province along some portions of the Silk Road as she made her way southwest to leave her home for a politically unifying marriage.  The road Princess Wensheng traveled runs just about 100 meters of the current location of TangBo Monastery, which lies on the eastern shore of Qinghai Lake. There is still an unused dirt road carved into the side of a mountain here and there are 7 mountains just above this road inscribed with the Tibetan sacred mantra, "Om Mani Padme Om" in large white rocks.
To see more on the history of the Tang Dynasty and the Tibetan Kingdom in a very special monastery near the lake, watch the video below:
Places to Visit
The lake has a number of attractions that draw travelers in this region in, but many of these spots, including Sand Island and Bird Island, have been closed as of Fall 2017 to help protect the sensitive environment of this fragile region.
Erlangjian Scenic Area:二郎剑景区
Erlangjian Scenic Area is located on the southeast shore of Qinghai Lake and is one of the closest areas of the lake to Xining (considering the fact that it takes 5 hours to drive to the west shore of the lake from Xining this is significant).  This area was previously known as the 151 or "YaoWuYao" Base due to its distance of exactly 151km (or 2.5 hours drive) from Xining, Qinghai. This site was the first base in China to launch a torpedo and, appropriately, this is also where China has chosen to launch its massive tourism operation as this is the main tourist hub around Qinghai Lake. Erlangjian has recently become a bit of a circus as it offers  cruises, jet skis, water bikes and self-driving yachts. They even offer a hot air balloon ride that goes directly up into the air and then is pulled down on a rope after cruising no horizontal distance at all.
During the summer's high season there are probably around 10,000 Chinese tourists that visit this site daily and most of these are large 50-60 person group bus tours. As you approach Erlangjian from Xining you will see fields of rapeseed flowers (and even some fields planted with 1000's of fake plastic flowers) for Chinese tourists to take selfies in (and pay small admission fees) with the shining turquoise waters of Qinghai Lake in the background.
Most taxi drivers or public buses from Xining will likely you directly to Erlangjian. So the good news is that it is easily accessible.  Also, if you want a ride on a boat to see the lake this would be the place to come.  But in general, we as Elevated Trips, avoid going to this section of the lake.  It is crowded, full of tourists, and offers the most expensive hotels around the whole lake.  But it is worth noting that if you drive about 500 meters west after the main Erlangjian turn off and turn right (or north) you can find some nice roads to cycle or get away from the crowds. There is also a nice small monastery on a spit of land here where there is a fairly private beach that offers a nice reprieve from the chaos of the tour buses.
Bird Island:鸟岛 
Bird Island Scenic Area (Niaodao in Chinese), also known as Xiaoxi Mountain or Egg Island, is located on the west bank of Qinghai Lake, with a total length of 1,500 meters. Bird Island is named after the hundreds of thousands of migratory birds on the island that use this as a destination for flyovers as they travel to and from Central Asia. Between April and June each year, nearly 100,000 migratory birds stop here and enjoy feasting on all the insects that thrive here on the hot, salty shores of the lake. Due to environmental restoration, this area has been closed to tourists as of Spring 2018.
Sand Island:沙岛
The Sand Island Scenic Area  (or Shadao in Chinese) is located on the northeastern shore of Qinghai Lake. In this scenic area there are several small lakes that were once part of the now-shrinking body of Qinghai Lake.  Today, as the lake has decreased in size and receded it has left several smaller lakes and these lakes include: Jinsha Bay and Yinsha Bay,Sun Lake, Crescent Lake and Lusong Lake.
While the official Sand Island Scenic Area, like the Bird Island area, has been closed for environmental restoration, you can still visit the northeast side of the lake and do some sliding down some pretty massive sand dunes. Some of these sand dunes are probably 20-30 meters in height and if you pay the parking fee of 10-15 RMB per person, you can roam about these dunes and even get quite isolated from the nearby road and have a grand afternoon slipping and sliding and jumping into soft pits of desert sand.  If you feel a little more adventurous you can also rent 4WD ATV's and can pay to rent these on a half hour or hour basis if you want to cruise around the sand dunes with sand blowing in your face.
Fairy Bay: 仙女湾
Located on the north bank of Qinghai Lake, Fairy Bay Scenic Spot is an important wetland of Qinghai Lake and a traditional sanctuary for the Tibetan people. There are many varieties of animals and plants here, and the wetland landscape is unique, especially the land of dozens of birds that love to migrate. It is the home of the swan.
Heimahe: 黑马河
Located on the southwest shore that is a 5 hour drive from Xining, Heimahe (or Black Horse River) is the launching point and intersection if you are traveling a few hours west to Qinghai's Chaka Lake (a smaller but saltier lake where salt is mined and sold for trade).  As Heimahe looks across the 100km stretch of Qinghai Lake as the sun is rising in the east, this is also the spot that many people say has the best sunrise viewing around the whole 360km stretch of road around the lake (although we have a few areas that we think are a little nicer ;). It used to be in the summer that this little town was packed with so many Chinese tourists that it was almost impossible to find a decent place to sleep without a reservation.  Even shady 2 star hostels and guesthouses would sell for 1000 RMB/room/night during this crazed high season. The traffic along the dirt road from Heimahe town to the nearby peninsula that offers spectacular sunrise views could take an hour to drive 2-3 km at 5:00am because there were so many Chinese photographers looking to capture the dazzling oranges and reds over the lake's rippling waters.
You can still come here to photograph the sunrise but you will be hard pressed to find any good hotels here (overpriced or not) as all the hotels have recently been torn down in a larger effort to preserve the environment.  Heimahe still retains many of its very local restaurants and this is a great place to stop for lunch or dinner if you are making the drive around the lake (or at least to its far western shore).  But don't plan on sleeping at a hotel here.  Probably the nearest large hotels are going to be 2 hours away, either further west to Chaka Lake or further east to Erlangjian.
Conclusion
Most of the best, most interesting areas around Qinghai Lake (including Sand Island and Bird Island) have sadly been closed for environmental restoration. As of the writing of this blog in July 1019, based on conversations with locals, it does not look like any of these sites will reopen in the next 2-3 years. This is good news for breeding birds and the sensitive high altitude ecosystem as this offers a promise of a brighter, greener future where the lake can be enjoyed by our kids and grandkids. But this is bad news for the intrepid adventurer as most of the tourism (and all the tourism staff) has been consolidated into the Erlangjian or 151 area.  Thus around a 360 km long road around China's largest salt lake, tourism has been centralized into one Disney-like area of mass tourism. This is probably okay for the average Chinese tour group, but for more individualistic western tourists this presents a bit of a quandary as to how to access the REAL lake and get away from all the crowds.
Of course, the lake itself is beautiful in and of its own right.  But – let's face it- you can only take so many pictures of yourself and a giant blue lake.  If you are looking for a really accurate and culturally immersive experience, one of the best things to do around the lake is just to enjoy the Tibetan nomadic culture here.  But this requires knowing some locals to enjoy a homestay or a horse back ride or a mountain trek and a picnic around the less crowded sections of the lake that only the locals know.  And if that is the kind of thing you are interested in, please let us know. We would love to help you sleep in a Tibetan nomad tent made of yak hair, grind barley flour to make Tsampa, and make yak yoghurt from fresh yak milk.
We would love to help you get to the areas of the lake that are still well-kept secrets.