Discover the secrets to this mysterious mountain in this blog post about trekking routes in the region.   In this post we discuss the best seasons to hike this beauty as well as what to expect in a play by play journal of the 6 day trek up to the Riwuche high pass at 4,875 meter (16,000 feet).
Trekking Minya Konka in Spring
On May 11, 2017 I set out with a group of experienced Outdoor Adventure students and staff from a Canadian college for a wilderness expedition to trek Minya Konka, otherwise known as Mount GongGa in Chinese. 
For Tibetans, the taller the mountain, the more powerful the deity that lives on it.  So, by it's very size and mass at  7,556 m (24,790 ft), Minya Konka is of huge spiritual importance to Tibetans.
The SummitPost reports that until 2003 the mountain was successfully climbed only eight times. In total 22 climbers have ever reached the summit in known recorded history.
While summiting its peak is off-limits to all but the most experienced of mountaineers, there is a more accessible trail which winds around the west of the mountain, following the sacred pilgrimage kora undertaken by many Tibetans each year and this allows for some very stunning trekking.
At this time of year we also found that there were many local nomad families out picking caterpillar fungus.  While each caterpillar fungus is very hard to spot (as little more than just a brown pencil-thin bump in the soil), they can fetch $3- $20 USD per fungus depending on size and quality. And that is the price just at the base of the distribution pyramid.  Once these get to high end markets in Shanghai and Beijing, Chinese consumers will pay great sums of money for this traditional Chinese herbal medicine that only grows in the high Tibetan Plateau. 
The starting point of the Minya Konka kora is just a short 30 minute drive from Kangding; however, we recommend spending a few days in Kangding town (2,560 meters or 8,400 feet) to acclimatize to the altitude before starting your trek. 
The traditional through-trek route takes you past Gongga Shan, along the stunning snow-capped Daxue Shan range of mountains which lie to the east of the trail. It's possible to start your trek either from the north (Laoyulin near Kangding) and head south (Zimei), or from the south working your way northwards (see below map).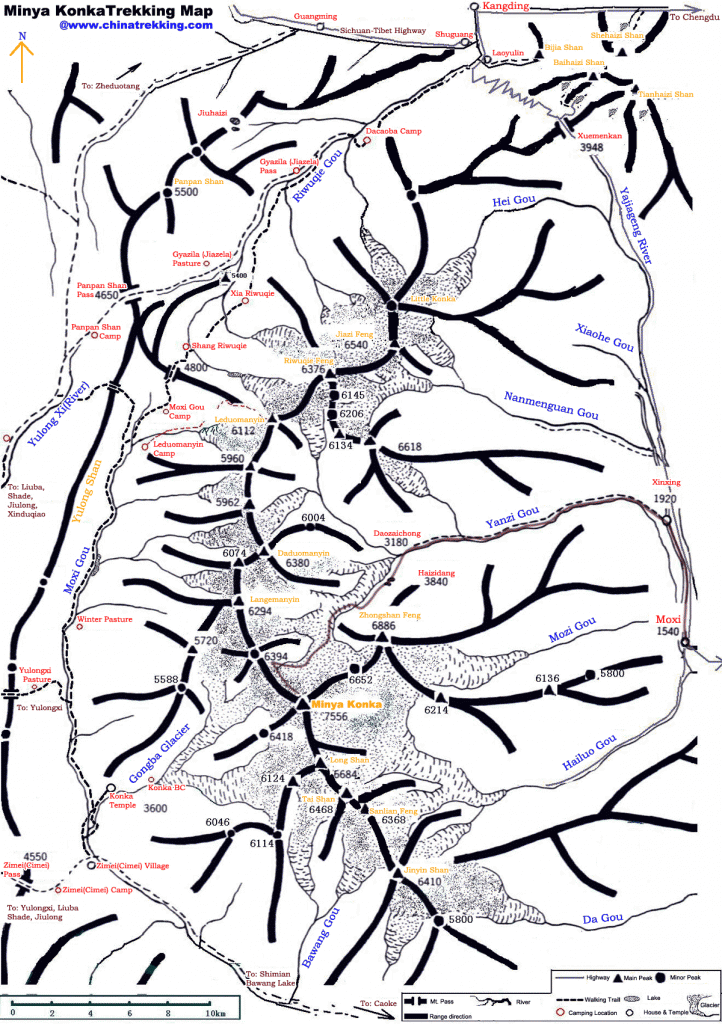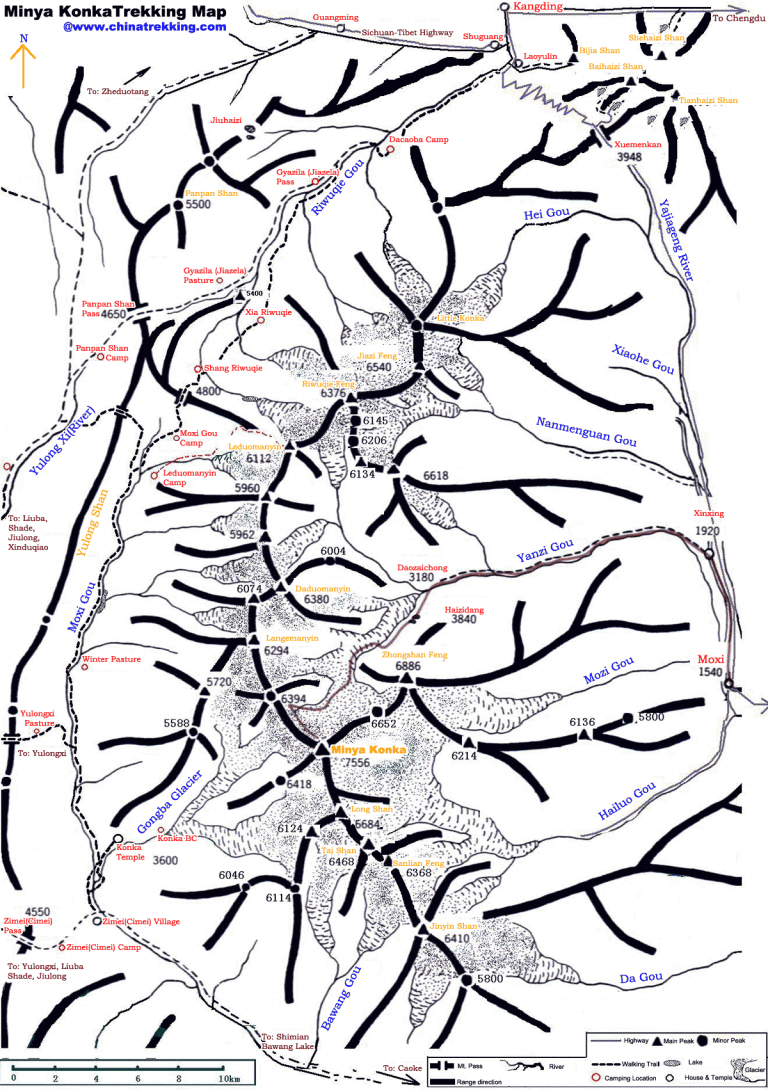 For our trip, we decided to start out at Laoyulin valley nearest Kangding and only go to the high pass at upper Riwuche (listed as "Shang Riwuqie" on the map above) at 4,876 meters or 16,000 feet and then retrace our steps back to the Laoyulin trailhead.  We made this decision on the basis of the snow pack at the top of the pass.  As we approached the high Riwuche pass, we were about 50 vertical meters from the top and we were already up to our hips in deep snow.  The presence of cornices at the pass along with the deep snow discouraged us from going further so we turned back, happy to have gotten an incredible view of the glacier and the 6,000 meter/20,000 foot mountains all around us.  However, we did see two Chinese trekkers go over the pass (and apparently complete the entire through trek).  Both of these brave individuals had full 40lb backpacking packs on and had a great deal of trouble getting through the thick snow.  But after hours of work struggling up the pass and postholing in the deep snow, we saw them disappear over the saddle of the pass and make it through the cornices.  However, I would not recommend doing the through trek of Minya Konka in early May.  If you were wanting to do the entire through trek from north to south or vice versa you would want to attempt this in the months of July, August, September and this would provide you with green valleys and a clear path across the high pass.
Here is a record of our group's schedule as we trekked Minya Konka.
Click here for more
May 11
Day 1 of the trek
We arose at 6:45am in our cozy hostel so that we could get down to the bus by 7:30am.  Due to construction on the road leading to the Laoyulin trailhead, we wanted to get to the trailhead before 8am, when the construction starts and it is difficult to get by the many machines paving the road.  We arrived at the trailhead at 3,200 meters/10,498 feet and packed our tents, cooking gear, and our food on 4 small Tibetan ponies.  Carrying only our personal belongings and sleeping bags, took off on a small dirt road that wound past a small dam facility.  Within 3km, the road gave way to a proper trail and we were making our way through the rain.
After 7km of soggy hiking from the start at the trailhead, we passed the first pasture where it is possible to camp at 3,600 meters/11,811 feet (listed as "Dacaoba Camp" on the map above)  and opted for a quick and very cold and miserable lunch under the slight protection of a grove of trees just outside the pasture.  We had considered camping here, but the rain and the snow caused us to go on to stay warm through movement. By this time it was snowing and we were all very cold any time we stopped on the trail. 
After lunch we hiked another 8km in rain and snow and walked along the banks of a surging snowmelt river littered with lots of red rocks and dramatic boulders set against boreal forests and high cliffs. At around 4pm we arrived at the second pasture at 3,900 meters/12,795 feet (listed as "Riwuqie Gou" on the map above).  Fortunately, the precipitation let up and we had a chance to warm ourselves by the nice fire our Tibetan guide had made for us.  We quickly set up our tents and got warm, dry clothes on and made a warm dinner of curly pasta and sausages . It felt good to get some hot food in us and to sleep in nice 0 degree Celsius down sleeping bags.
May 12
Day 2 of the trek
After a breakfast of granola and powdered milk, the sun came out and allowed us an incredible view of one of the nearby 6,000 meter/20,000 foot peaks.  We all took scores of wet clothes and hung them up on every rock, crag, and gnarly little thorn bush we could find in a desperate attempt to get the wet contents of our bags bone dry.  For the most part, it worked out well and we all had dry clothes for the rest of the trip, especially because the rest of the trip was filled with good weather and sunbeams and blue skies over the mountains.
We had a lazy morning packing up our tents for the first time together and breaking camp.  We stayed in Camp 1 long enough that we were able to eat both Breakfast and Lunch there and then departed for a short 3-4km walk up the valley.  The trail continued to have a very shallow, gradual grade as it had for the last day's walk.  This was certainly a big advantage with 20lb packs and less available oxygen as we gained elevation.  We crossed the river on a sturdy log bridge and made our way past Tibetan nomad tents pitched by entrepreneurial Tibetans looking to cash in on the 3 weeks of opportune caterpillar fungus picking. 
Around 3:30pm we arrived at our camp 2 at 4,100 meters by pile of "Labtse" or stones that have been thrown into a pile to appease local mountain and water spirits.  This stone pile, although very different in purpose,  looked remarkably like a western cairn which serves at a high altitude trail marker.  We set up our camp, filtered water, and had a glorious supper of pasta with cabbage and cauliflower, carrots, and red curry. After a relaxed day of hiking, a good debrief and a good dinner, we felt revived from the way the weather had worn us down the day before.
May 13
Day 3 of the trek
We ate breakfast and broke our Camp 2 at lower Riwuche valley (listed as "Xia Riwuqie" on the map above).  Like every morning, we had to tie the tents and luggage in a special way so that each bag or box could be tied to the side of the wooden saddle on the ponies' backs.  From there we walked another 4km up to the upper Riwuche valley to arrive at Camp 3.  More gentle slopes greeted us as we made our way from one valley floor to the next.  As a tip to anyone trekking up the valley from north to south as we did, I would suggest for you to stay right of the river until you get to a small wooden log bridge.  We happened to cross the river a few 100 meters too early to the left side and it cost us about 30 minutes in travel time as we bushwhacked our way through brush and uncut trail.  We were never in danger and the result (getting to the left side of the river) was the same. 
Just before crossing into the upper Riwuche valley (listed as "Shang Riwuqie" on the map above) , we ascended a sandy slope that reminded me of sand dunes and once we were over that last hump the entire upper Riwuche valley opened up to us and we were surrounded by monstrous 6,000 meter (20,000 foot) peaks on all sides.  The entire trek had been gorgeous, but as we made this last push it became evident that it just kept getting more unreal. 
We set up camp quickly and half of our group made a quick push to the edge of the glacier lake while the other half rested and worked on dinner.
It took us about 1.5 hours to get up to the rim of the glacier lake from Camp 3.  The first 45 minutes was spent traversing relatively flat terrain and navigating the braiding branches of the river and its snowy banks. Then we ascended steeply up  through a rocky gully that forked to the left of the valley and clambered across boulders to the rim of the glacial lake.  Surprisingly, there was only small patches of 3-6 inch snow as we crowned over the rim so the hiking was very manageable and at no time did we posthole in the snow. On the rim we were right at 4,572 meters (15,000 feet).  We were taller than anything in the 48 United States and, boy, were we feeling it!  We all huffed and puffed to get to the top but it was so worth it!  This, for me, was the absolute highlight of the trip in seeing the light of the coming sunset piercing through the blue edges of the glacial ice across the lake.  The lake itself reminded me of Crater Lake in Oregon in the winter- a high craggy rim that encircled a snowy crater below.  But the backdrop was Denali itself in a rugged alpine stark beauty.  It was the kind of wonder that we were all seeking on the trip; the kind of grandiose scene that makes a man feel very small against jagged and fierce cliffs that could wipe him from the face of the earth in just one fervent blast of wind. Even the high trail along the ridge of the lake was a knife edge.  It was the kind of trail that allows for a  foot or two of width in safe passage but everything on either side looked like a long and dangerous drop. 
Our turn around time arrived.  After a few jumping pictures on the rim, we weaved our way in-between boulders and snowpack.  We descended back to camp 3 and wound back down to the mouth of the lake as it poured gently back into the valley and became a rushing river that surged under a icy veneer.
Within 1 hour of departing the rim of the glacial lake, we were back in camp.  And we exhausted.  Thankfully, a hot dinner awaited us.  We ate our fill, cleaned up dinner, and headed for the horizontal position in our sleeping bags.  A snow storm was starting to blow up and none of us were too keen to linger too long outside of the tent at 4,300 meters/14,107 feet.    
May 14
Day 4 of the trek- a day hike from Camp 3
I promised myself as I went to bed the former night that the next day was definitely going to be a rest day for me.  I had felt I had really experienced my highlight of the trip in the glacial lake and I was up for rest day at high altitude. I was starting to experience a headache and had developed some diarrhea, so I figured I could use some rest from pushing myself the day before.  I told my co-leader that I was happy to stay back in camp that day and just watch the tents, pump water, and cook food. 
That was my plan as I exited my tent into 5 inches of thick freshly fallen snow on the morning of May 14. It seemed like a perfect day to listen to the birds flitter and chirp away as the sun melted the snow that covered our tent.
But that plan for rest totally failed.  What was proposed for the day was a quick one hour jaunt to   a nearby saddle from Camp 3.  I figured I could manage such an easy and quick hike from our camp and then be back to have a full and restful afternoon.  So I put on my clothes and my gaiters, anticipating a short and non-eventful foray within a stone's throw of our camp. 
But then the fog came in right over the saddle that we were aiming for.  And as soon as that fog settled in behind us, the sun, at the same time,  came blaring through the clouds and revealed a brilliant blue sky directly above us.  We all instantly threw off our fleece layers and merino base layers and within 3 minutes we were all standing in fresh snow in our short sleeves.  This changed everything.  Now the saddle didn't seem so inviting and it certainly wasn't going to provide any new or interesting views in that fog.  But the pass – the highest pass of the entire hike- looked clear and sunny and inviting.  In those 3 minutes our plans changed.  We weren't going up just 50 or 100 meters.  Our group was going for the holy grail – climbing 600 meters to a pass that we were not sure we could make it to.  I told myself I was going to turn around half way and come back to camp early. At least that is the way I rationalized taking advantage of the weather.
But by the time we were half way up, the weather was clear and overcast (which was good because the snow was not too bright) and I could see the high pass.  It didn't look so far and the snow was surprisingly manageable.  Most importantly, no one else was turning around and going back to camp.  So neither was I.
The trek from Camp 3 to the high pass was about 5km each way.  After we had hiked about 3km we found a group of Tibetan horses grazing in the scant grass and shrubs that clung to the rocks. These were a group of horses that had been carrying two Chinese trekkers. The horses at this point could not go any further so they dropped the trekkers off to ascend the pass on their own two fee. As we got to within 1km of the pass, the snow started getting gradually deeper. Each step sunk in a little more than the last into the snow.  But, fortunately, we had some real bold hikers who were willing to break trail and do the hard work. I just stepped gingerly into their well-laid bootprints and hoped I would not break further down deeper into the snow with my own feet.  In most cases, I was able to stay relatively comfortably above the snowpack. Once we were within 300 horizontal meters of the pass, it got noticeably thicker.  Suddenly we weren't just floating on top of the snow effortlessly.  But I was sinking into it like I was in a boggy swamp.  Some of my steps plunged me right up to my thigh and it took considerable energy to pull myself out of the snow trap I had right-foot lunged into. Right around this time we came upon two Chinese trekkers with full packs and their local Tibetan guide.  As we had approached over the last few hours we had been trailing them (and they had been making a trail for us in the snow).  But over the last hour or so of ascent to the base of the pass we had noticed they had just completely stopped.  We were curious if they were going up.  Mostly because we, ourselves, had the same question in own minds, "With the snow so deep, will we make it to the top of the pass?"
Inevitably we quickly gained on the hikers, to find they had full backpacks and were planning to cross the pass and carry on the rest of the way to Zimei village on the other side of the pass.  We only had slight day packs with water and snacks and we were struggling to make it through the snow.  I can only imagine what was going through the minds and bodies of these two poor Chinese trekkers with full packs.  Every step they took sent them belly deep into an abyss of snow to then struggle and shake and flail  their way out of a deep hole like an overturned turtle escaping a ditch repeatedly .  But they were determined to make it across the pass. In fact, one of the trekkers was so Gung-Ho that he refused to follow his friends hard-earned footprints and instead went all "Lone Ranger" to try to blaze his own trail.  In snow that is 1-2 meters deep, I can not possibly comprehend why anyone would waste so much time and energy trying to make their own path when there is 30% less oxygen available than at sea level.  It was an amazing example of pride and independence that could have really hurt or endangered this trekker.
I wasn't the only one worried for these two.  Their Tibetan guide gave them directions on which way to cross the snow to navigate the cornices and the narrow pass.  Then he turned around and went back, leaving them on their own for the rest of the hike.   Apparently he was only hired to guide half the hike and then his plan was to go back down to the valley to help the rest of his family to find more caterpillar fungus. But we watched as the Tibetan guide left his two trekkers to ascend while he descended back down the snow slope.  Then we watched him turn around and make his way all the way back to the trekkers just as they were about to cross the pass.  They had gone the wrong way and it was putting them in not just deep snow but considerable danger of snow or rock slides. The Tibetan guide looked back and saw this and came back to to help the two Chinese trekkers. When he came back we all breathed a sigh of relief because we were seriously worried for these guys. As we looked up to the pass, we saw the Tibetan guide help them find their way over the pass and we were happy for them that they made it.  But we knew that they had a long descent down through a lot of heavy snow.  It made us glad that we had decided not to do the full through trek.
In light of the fact that we were in no way obligated to cross the pass, we decided to stop short at a rock pile just 50 vertical meters from the 4,875 meter (16,000 foot) pass.  We probably could have made it, but we decided that it was not worth all the time and energy to just return to camp even more tired and worn out.
As it was, we were engulfed in a cloud of never-ending white.  And we had hit our turn around time, so we knew it was time to head back to camp.  So that is what we did.  Just at that moment the sun came out and started to turn the hard snow pack to slosh.   And suddenly our journey in the snow became a little bit more arduous in the newly melted softer snow.  We plunged and careened down back to the dirt path and rejoiced when were no longer slogging in the slushy goop snow.
Somehow I had managed to do the exact opposite of rest that day.  I had been to an elevation that qualified as probably the 3rd highest I had ever been to in my entire life (next to Tibet's Everest Base Camp at 5,200 meters and another hike that took me equally as high).  Once again, I was very tired from a long day at elevation. But I was glad I hadn't turned around.  It felt good to have pushed through. And it felt even better to snuggle up in my tent.
May 15
Day 5 of the trek
We packed up camp feeling a sense of accomplishment.  We had gotten much higher than we ever thought we would as a group.  Now it was time to head home to the stables.  We power walked out and did 17km downhill passing Camp 3, Camp 2, and Camp 1. We descended from 4,300 meters to about 3,600 meters and our lungs were happy and bursting with all the excess oxygen.  We made a camp in the afternoon and had a blazing fire with all the excess wood in the forest (something that was a rare commodity in the high alpine zones of the last few days). Our knees were tired but we were all in good shape.  We camped in an open pasture at 3,600 meters (listed as "Dacaoba Camp" on the map above).
May 16
Day 6 of the trek
We ate  breakfast and were out of camp by 10:30am.  By 12 noon we were at the Laoyulin trailhead again.  The bus picked us up and by 1pm we were in Kangding.  We grabbed a quick dumpling lunch in town and then headed for a well kept secret that only locals know about:  a real hot springs bath house.  The hot springs flow naturally from the ground but the local Tibetans have channeled this water into a few different private and public pools.  It felt so good to soak in the hot, mineral-rich water and wash 6 days of grime off our bodies and let it steam away.  This was the perfect way to end an incredible walk in the wilderness.