The Nirvana Resort is the brain child of Wandhikhar, a native Tibetan with an incredible talent for carpentry and architectural design. He designed and built the whole resort himself, a job that took him 2 years to complete.
The Nirvana Resort opened in June 2019.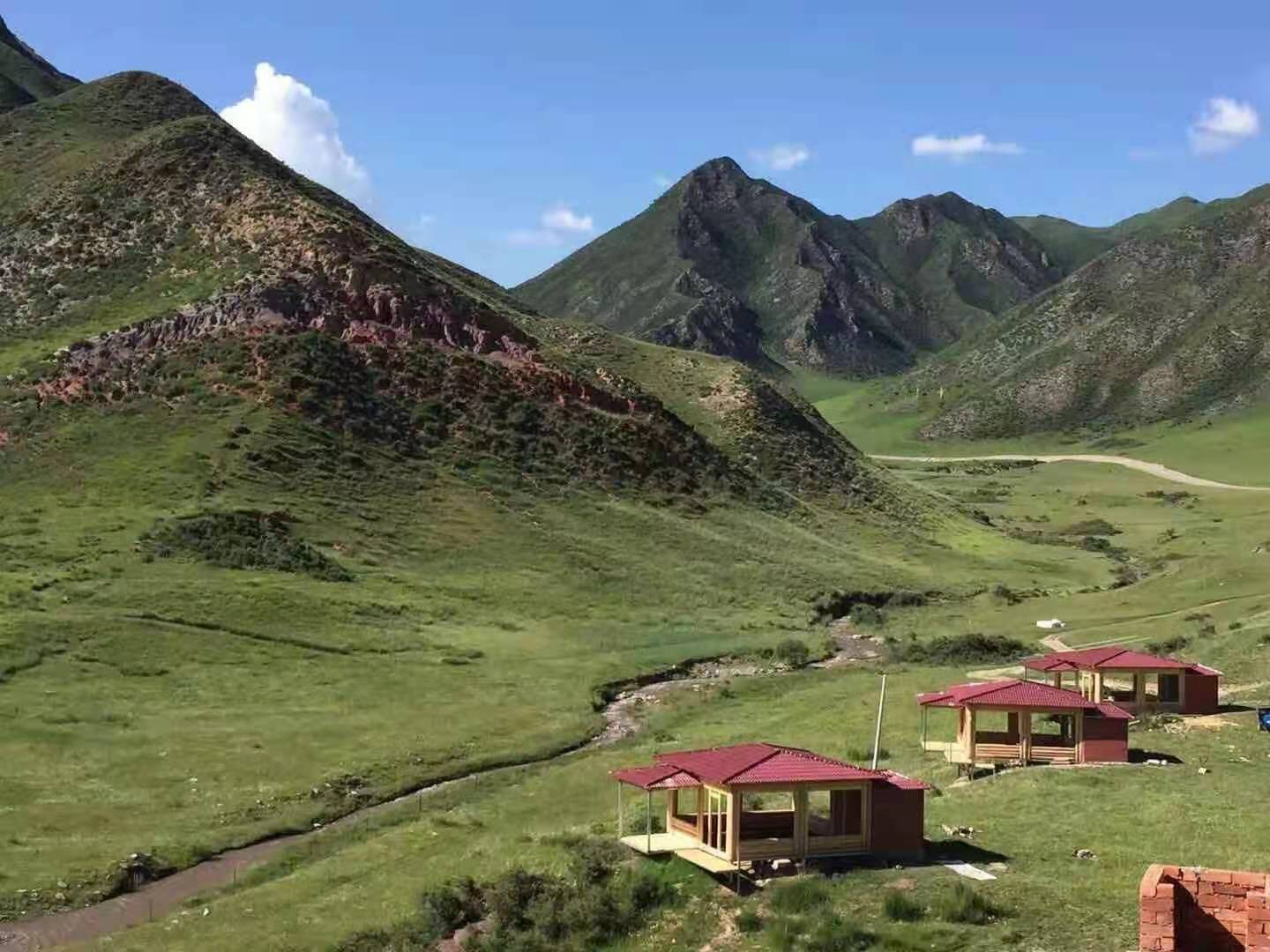 ​
Wandhikhar is dedicated to providing stable jobs for the Tibetan nomad staff he employs. He makes sure he creates a sustainable and environmentally friendly resort in order to keep the Sangke grasslands as absolutely stunning as they now are.
​
He also created the " Nirvana Hotel, Restaurant & Bar" in Xiahe town, a stunning boutique hotel with an excellent restaurant, boasting a successful 8 year history. www.nirvana-hotel.net
At the long, mahogany table next to me, a group of Tibetan monks unwinds, picking the best strips of yak meat from a sizzling hot platter, the maroon of their robes contrasting against a background of soft, green hills and blue, cloud-patched sky.
We're sitting in the Sky Bar, a wooden cottage with a magical atmosphere that sits atop a tongue-shaped rock, which, I'm told, is sacred to nomadic Tibetans. Floor to- ceiling windows and a wrap-around balcony help guests survey their surrounding kingdom of green meadows, traversed by a slow-flowing stream where wild horses stop and quench their thirst.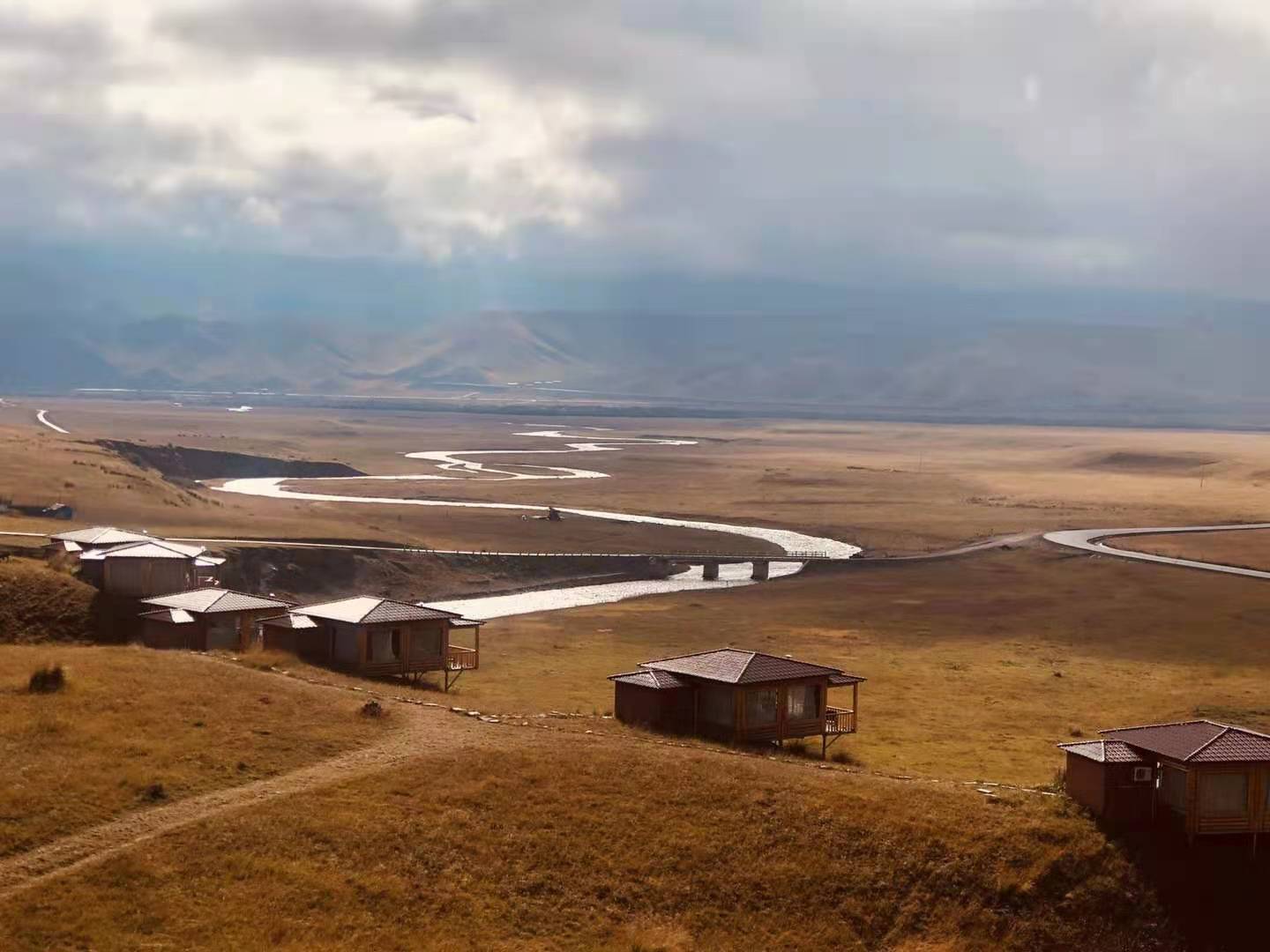 There is powerful beauty in the Sangke Grasslands, a remote corner of the Gannan Tibetan Autonomous Prefecture of Amdo, which marks the northern fringes of ancient Tibet that today are part of Gansu Province in northwest China. These grasslands provide the ultra-scenic setting of the new Nirvana Resort
A rustic-chic twist on Tibetan hospitality in the Sangke Grasslands.
(nirvanaresort-xiahe.com; from RMB 2,000 per night, including transfers from Xiahe),
A collection of 12 luxurious wooden chalets and one panoramic restaurant.  Twelve kilometers southwest of Xiahe town and its famous Labrang Monastery— one of the world's most important monasteries within the Gelugpa sect of Tibetan Buddhism—Nirvana Resort is the brainchild of Wandhikhar, a Tibetan native and co-owner of Nirvana Hotel in Xiahe. He spent two years designing and building this secluded new property, and opened it in June. It was constructed completely
from wood, "to avoid disturbing nature," he said. The location was selected for its abundance of birds and other wildlife as well as the plain's humming river, which make this the perfect place to relax, something local Tibetans have known for generations. Modern-day nomads still live on Rainbow Mountain, and they comprise the entirety of Wandhikhar's resort staff. Staying here, I experience the
simplicity of life on the great Tibetan grasslands—with a touch of luxe comfort.
The chalets are all airy and spacious, fitted with roomy king-size beds, rainshowers, original Tibetan rugs and outsized windows that grant humbling views all the way to the mountainous border of Qinghai Province.
Sky Bar offers a selection of authentic Tibetan dishes— with plenty of perfectly grilled yak meat
choices—a chilled local beer, and various Tibetan-Western concoctions.
Those who wish to sample full immersion in nomadic life will want to book one of the resort's hiking tours (RMB700 per person) that include visits to nomadic families across the plains. For a trip that offers up a sustainable, intensely beautiful experience in the Sangke Grasslands, Nirvana Resort is well worth putting on your bucket list.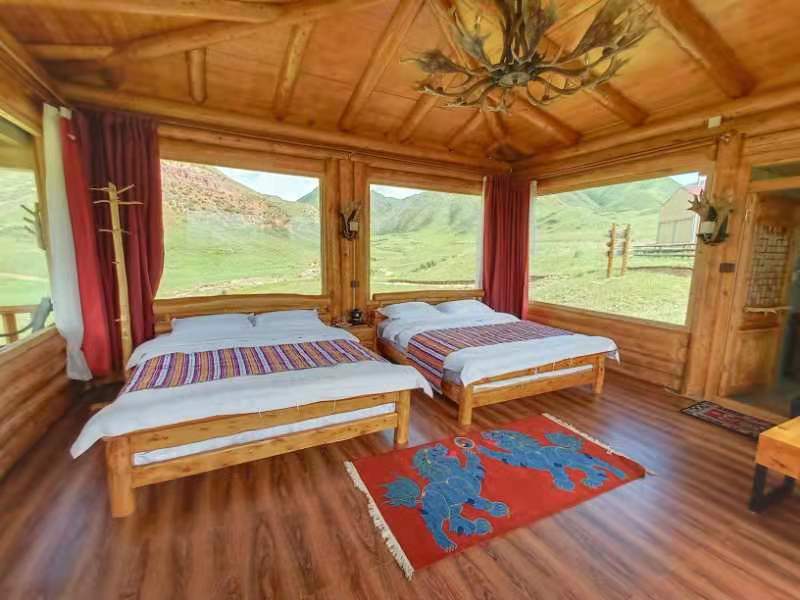 The Nirvana Resort features 12 stunning individual rustic chalets, all with breathtaking views on the surrounding grasslands.
​
Room features:
* total chalet size is 60 square meters
* Rooms with 1 bed (1.80 x 2 m) or 2 beds
(1.80 x 2 m each) with comfortable mattress
* private bathroom with 2 shower heads
* sofa
* flat screen television
* hand woven carpet
* complimentary tea, coffee, mineral water and toiletries
* relaxing and soothing interior
* balcony with chairs and table overlooking the grasslands
​* Tibetan style wood stove for heating (wood is charged separately)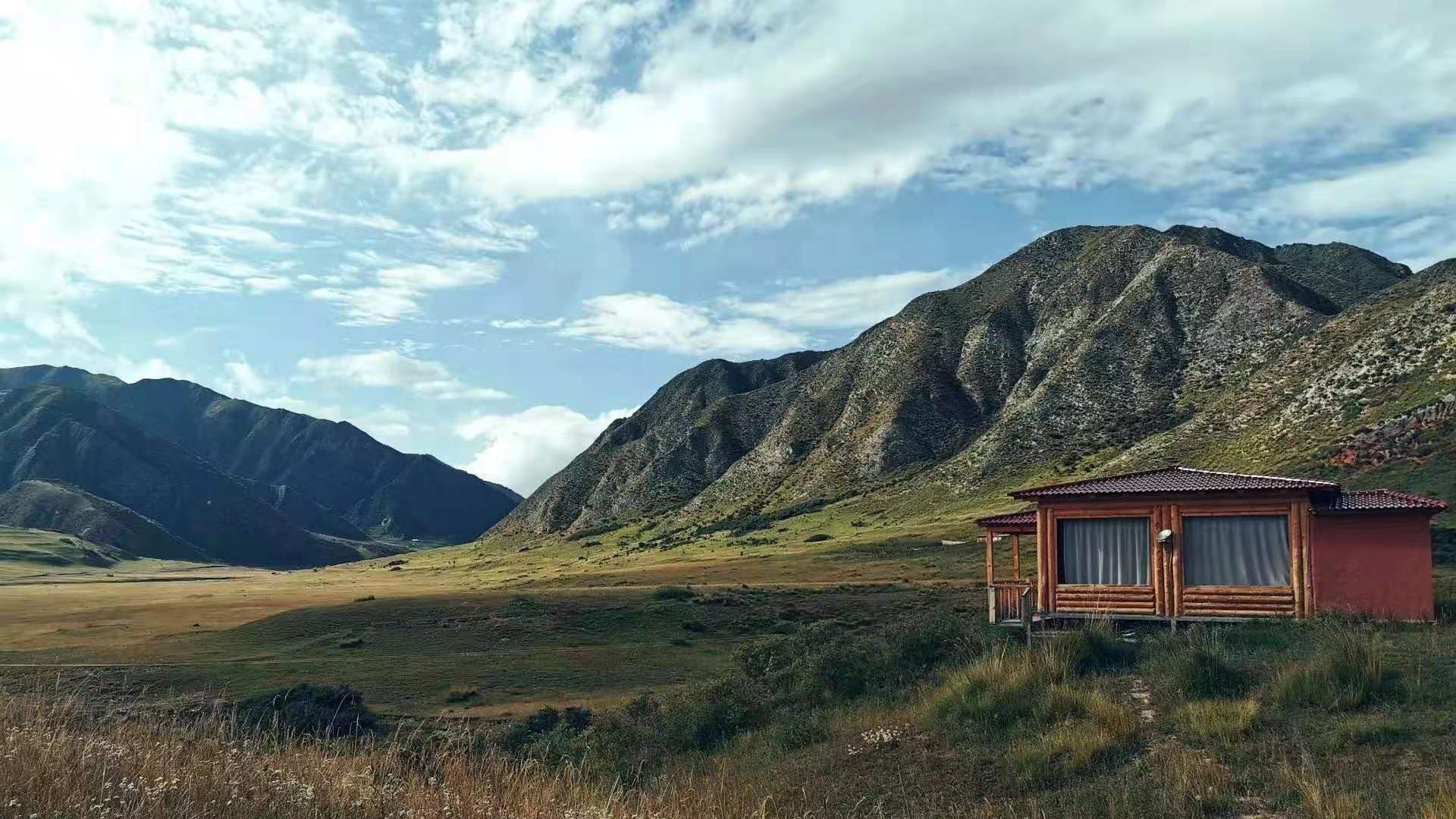 ​
The Sky Bar is a rustic restaurant with the most amazing views imaginable of the surrounding grasslands. Built on a small hill and featuring large windows all around, one gets the feeling of floating in the sky while enjoying a delicious local meal paired with a wine, liqueur or other drink of your choice.
Guests at Nirvana Resort can enjoy darts on site, or hiking in the surroundings. Labrang Monastery is 14 km from the accommodation. The nearest airport is Gannan Xiahe, 51 km from Nirvana Resort, and the property offers a paid airport shuttle service.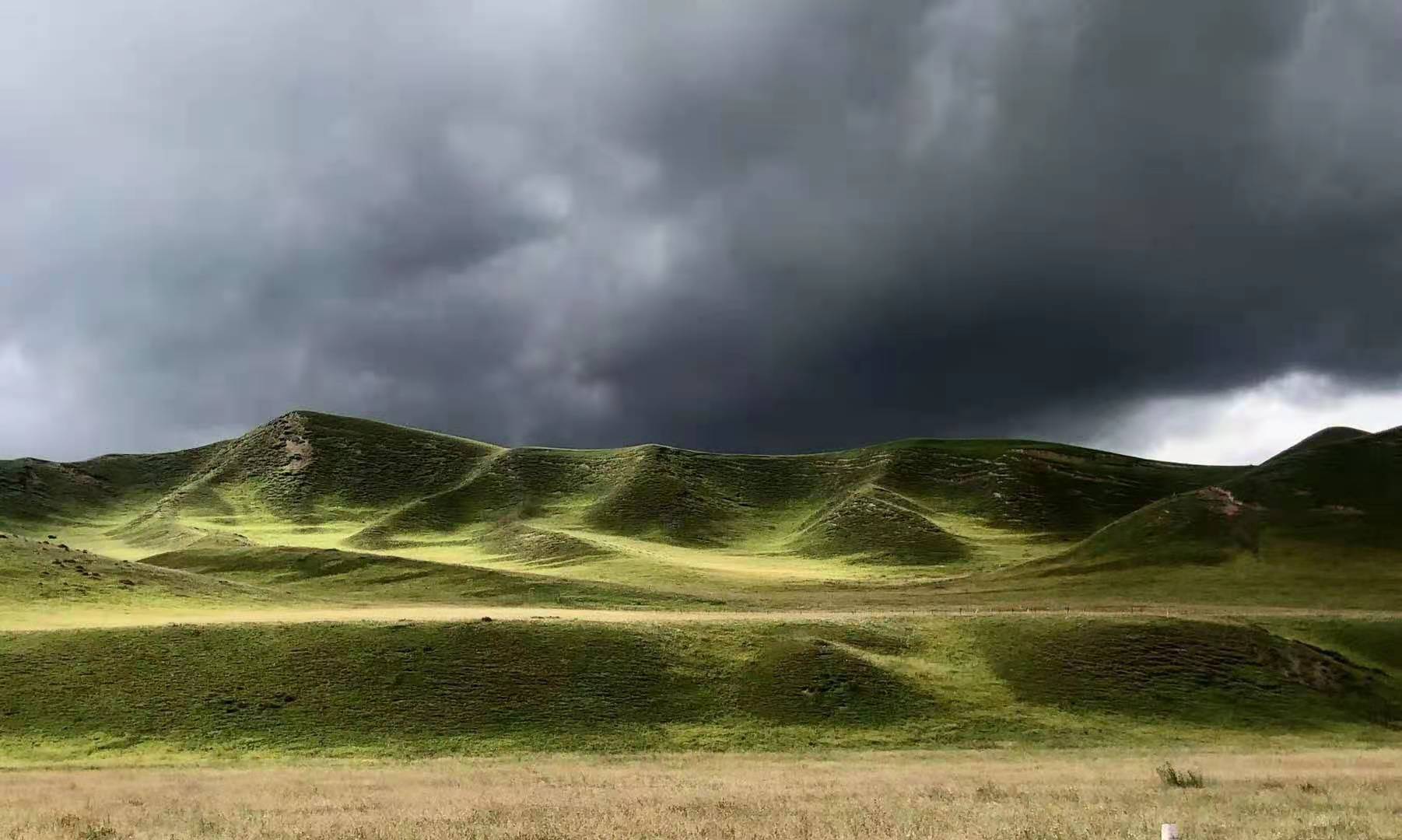 The NIRVANA GROUP includes:
1) Nirvana Hotel, Restaurant & Bar: boutique hotel in Xiahe town
www.nirvana-hotel.net
Check the latest on our social media:
www.facebook.com/nirvana.xiahe/
www.instagram.com/nirvanahotelxiahe/
Recommended by LONELY PLANET and ROUGH GUIDE
TRIPADVISOR CERTIFICATE OF EXCELLENCE 5 YEARS IN A ROW
See Tripadvisor reviews
2) Nirvana Resort: luxury chalets on the stunning Sangke grasslands
www.nirvanaresort-xiahe.com
3) Nomad Travel: tailor made tours around China
www.xiahe-tibettravel.info