As Tibet lies in the rain shadow of the Himalayas, most of the rains fall on the south side as monsoons in India and Nepal and Tibet is on the northern, much more arid side of the mountain range. With less atmosphere to block the sun up high in the mountains, Tibet can experience extremely bright and hot days in the summer and below freezing temperatures in the heart of winter.  So be prepared for all kinds of conditions from sun to snow to sleet.  Anything can happen up high in the mountains so we recommend packing lots of layers because the weather can change very fast here. Although Tibet is in general a very high desert with little precipitation, July and August are the cloudiest months with the highest chance for rainfall and thus the best chance to miss the great views.  So if possible –  the Spring and Fall (May, September, and October) are the best shoulder season times to trek with the clearest skies and the least tourists.  
No matter, what weather you encounter, we are sure you will find Tibet both rare and beautiful and it will leave you wanting to come back for more. Even as an idyllic paradise for trekking, don't forget to take a moment to visit the ancient monasteries and sample traditional Tibetan food such as butter tea and Tsampa.  Most trekkers tell us that the real core of their outdoor experience was the people they met along the way! 
Here is our list of the 10 best treks in Tibet and some of these places may really surprise you…
1.) Mount Kailash Pilgrimage
Mount Kailash 6,714 m (22,000 feet) is a holy mountain considered by ancient texts as the center of the world and by Hindus as the abode of Lord Shiva by Hindus. Some Buddhists believe the mountain to be the home of the Buddha Demchok. Many Hindu pilgrims from India make the long journey so that they may trek around the mountain in hopes of being freed from an endless cycle of births and deaths. The mountain itself lies in a remote part of the Tibetan Himalayas just to the north of the border between Nepal and India. It's a 52km (30 mile) circuit that normally takes 3 days to complete. It's a long but exceptionally scenic journey just to reach the mountain that requires 4 days of driving from either Kathmandu or Lhasa. If you are in a hurry and can afford it you can join wealthy pilgrims on a helicopter.
See the  17 day Mount Kailash trek here
2.) Yading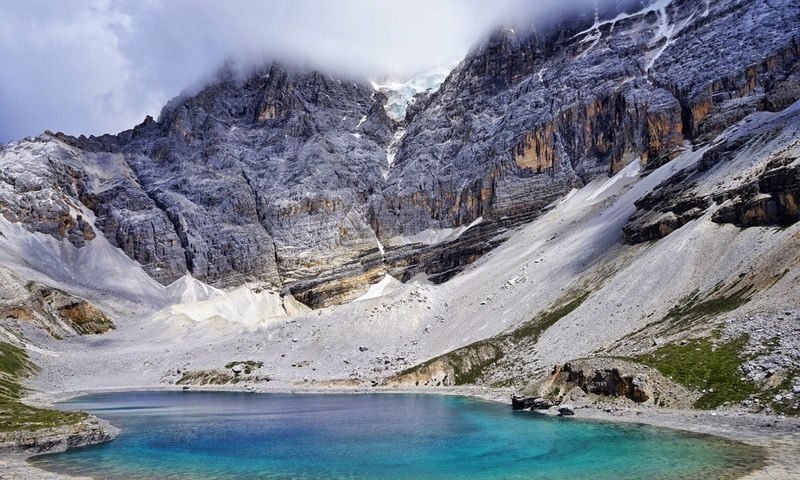 One of the most stunning treks in Tibet is in Yading National Park. Yading became famous after it was introduced to the world by Joseph Rock, an American botanist and explorer. In 1928, Joseph Rock trekked from Muli to Yading and along the way he found a pristine wonderland around a great snowy mountain that local Tibetans referred to as "Chenrezig", or the deity of compassion. The unparalleled marvelous scenery in Yading surprised and deeply affected Joseph Rock. When he returned to America, he published an article in National Geographic Magazine about Yading with the pictures of its remarkable landscapes. After that, Yading has become famous as a "Shangri-La" of peace and beauty in western China.  In fact, probably the closest place to start your trek is just south of the National Park in northern Yunnan Province in Shangri-La town, also known in Chinese as Zhongdian. 
Yading is located in Yading Country, Shangri-La Town, Daocheng County, Ganzi Tibetan Autonomous Prefecture, mainly consisting of three holy sown mountains (Xiannairi, Yangmaiyong, and Xianuoduoji) , streams, alpine lakes (Pearl Lake, Milk Lake and Five-Color Lake) and meadows. It is also a paradise for photographers and trekkers. As tourism has increased in Yading in the last decade the roads have all improved and today the roads are mostly paved to get to the entrance of this National Park.   There are three kind of transportation available for you to get to Daocheng Yading: chartered cars, public buses and airplanes. The planes from Xi'an, Luzhou, Chongqing or Chengdu to Daocheng Yading Airport have been opened right now. It only takes about 1-2 hours. If you go by cars or buses, it needs much more time. But you can enjoy the landscape along the road when you take a car or bus.Trekking in Yading is the best way to view the picturesque sceneries. Yading has attracted thousands of trekking lovers and tourists since it is one of the best places for trekking in the world.
There are two main trekking routes in Yading. One is a short trekking route which is to trek around Xiannairi for a circle with a distance of about 30km, only taking about 1-2days; the other is a long trekking route which is to circle the three holy mountains (Xianuoduoji, Yangmaiyong, Xiannairi). The whole distance of the long route is about 120km, taking about 7 days. You can choose either trekking route according to your preference.
3.) Nyenbo Yurtse
Trek past fields of Edelweiss and yaks grazing near turquoise glacial lakes and discover the dramatic shark tooth peaks of Nyenbo Yurtse. Although this is about as close as you get to the light and type of mountains in California's Sierra Nevada rang, this the home to Tibetan nomads who live at the base of a mountain that hovers at a lofty 5369 meters/17,615 feet.
And getting to this trek in Tibet is half the fun! Along the way to Nyenbo Yurtse you will get to walk through the mud-daubed alleys of Labrang Monastery and see the untamed grasslands and the nomads who worship there in Amdo Tibet.
Most people hike Nyenbo Yurtse as a 2 night/ 3 day itinerary but we have heard if you find the right local guide they may be able to take you on an extended trek around the alpine lake systems that lasts from 7 to 11 days.
See the 3 day Nyenbo Yurtse Trek here
4.) Minya Konka
Mount Gongga, also known as Minya Konka by the local Kham Tibetans, is the highest mountain in Sichuan province, China. It is also known to locals as "The King of Sichuan Mountains". This is one of our favorite treks in Tibet and is a must-do for anyone spending 2 or more weeks in Sichuan.  
Situated between the Dadu River and the Yalong River, and just a 30 minute drive from Tibetan town of Kangding, this mountain trek offers some of the best trekking in all of the Tibetan Plateau with a viewpoint of the highest peak in the range at 7,556 m (24,790 ft) from upper Riwuqie pass at 4,937 meters (16,200 ft.)
Start and finish your journey in Chengdu, China. Then spend a few days acclimatizing in the charms of Kangding town while viewing monasteries and taking in the sights of a few day hikes near the town.
As you depart Sichuan's capital, you will drive 325km out of the heart of the Sichuan basin's "Land of Abundance" from Chengdu to Kangding and see bamboo forests and tea plantations along the way. We will follow the steps of the ancient Chinese porters as they carried loads of tea weighing 200 pounds per person for trade into the Tibetan Plateau. After experiencing a mind-boggling variety of landscapes from 500 m (1,600 ft) in Chengdu we will arrive in Kangding at 2,560 m (8,400 f).
Then fully submerge yourself in a 6 day trekking expedition that explores this wonderland of large vertical relief over the deep nearby gorges and monstrous snowcapped mountains that make up the Minya Konka range. The highest pass here(around 4,500 meters) is clear in the summer but may still have some snow on it in early to mid May.   
See the 5-6 day Minya Konka (Gonga Shan) Trek here
5.) Samye – Ganden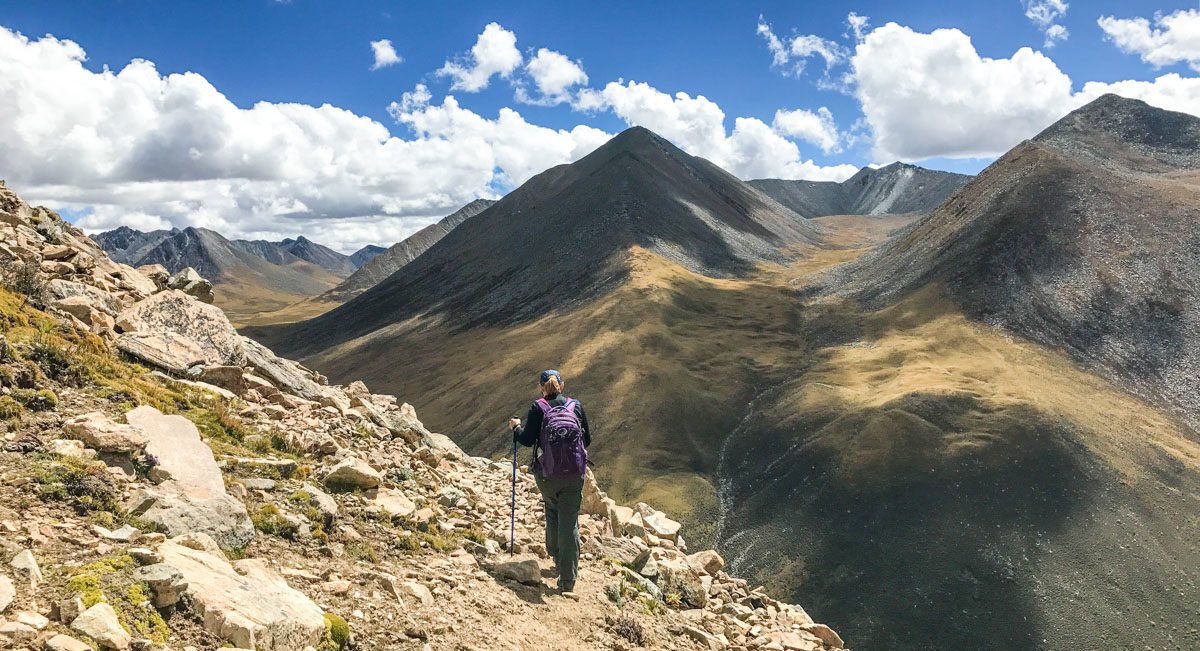 This is one of the most popular treks in Tibet connecting the famed Ganden and Samye monasteries. Its one of the closest trekking routes to Lhasa and also one of the shorter treks at 4 days so it the best option for those with less time. Despite the relative ease of logistics it has great mountain views and is a challenging trek that includes crossing over Chitu La and Shug La, both these passes exceed 5000m (The word "La" means pass in Tibetan). The ruins of Ganden at the start are built high on a cliff and are attraction for many on day trips from Lhasa. One reaches the Samye Monastery at the end of the trek which is significant as the first Buddhist monastery to be built in Tibet and many Buddhists make a pilgrimage from across Tibet to visit this site.
6.) Xunhua – Rebkong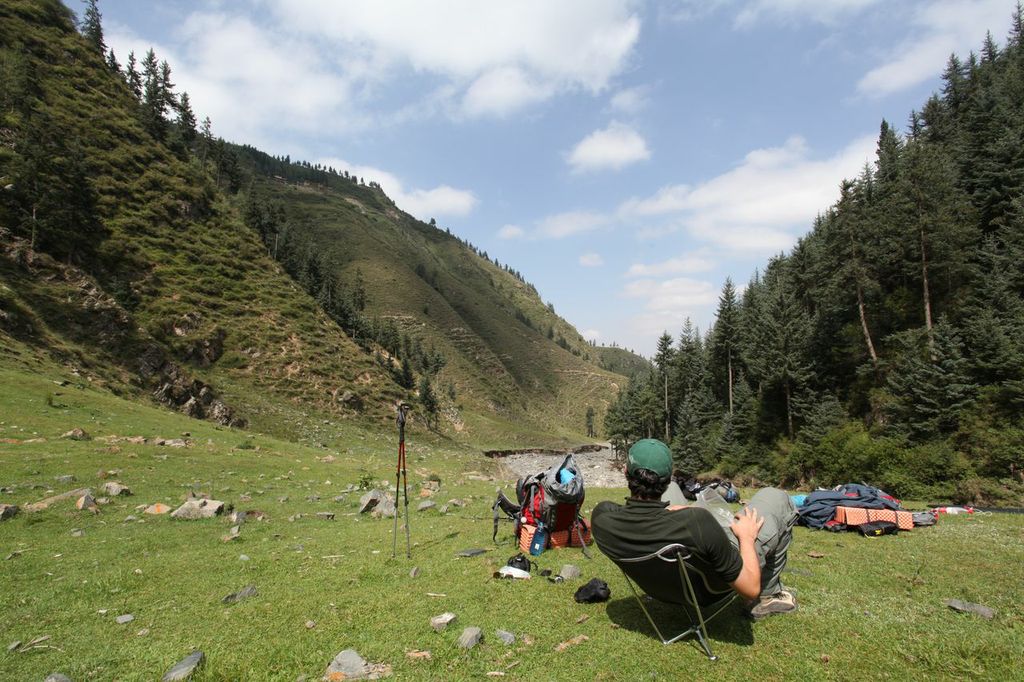 You don't really understand a culture until you have walked through it. We picked this as one of the treks in Tibet for its great cultural immersion and it is probably one of the more accessible, moderate hikes on this list that could be very enjoyable for both beginner and advanced trekkers. If you feel like you are new to the backpacking world and don't want to travel over 3,500 meters this hike would be a great hike for you and has a very relaxed pace and the grades are relatively gentle. 
Strap on a backpack and walk for 3 nights/ 4 days across wide grasslands, alpine meadows, coniferous forests, red rock bluffs, and over a 3,500 meter saddle with an incredible view of the whole valley beneath. In this trip you will walk from Xunhua, the home to one of China's most famous noodle dishes and Salar Muslims, to Rebkong, a cultural center of Tibetan thangka painting.
As you walk, you'll grow in understanding of Tibetan culture by staying in Tibetan homes and/or Tibetan nomad tents, visiting monasteries, and walking around holy sites.
In addition to the cross cultural elements, we are happy to include hands-on educational opportunities for adults and students looking to discover more on the Tibetan Plateau. Our lead guide, Ben Cubbage, has an Bachelor's of Science in Environmental Science and has spent many years as a naturalist and guide leading groups into fun-filled discovery . Ben loves to teach on this unique ecosystem of the Tibetan Plateau including such concepts as environmental stewardship and responsibility and high altitude ecology and weather.
This trip is for those who want to experience the food, traditions, and culture in Tibet's remote villages. Come out and sip some yak butter tea in a mud hut, eat some delicious and creamy yak yoghurt, learn how to herd sheep with a yak hair slingshot, and see the beauty and diversity of some of Qinghai's biggest and most ornate monasteries. We can put together a schedule that is tailor suited to your group and can also incorporate team building activities.
https://www.elevatedtrips.com/tour/xunhua-to-rebkong-backpacking/
7.) Amnye Machen – inner kora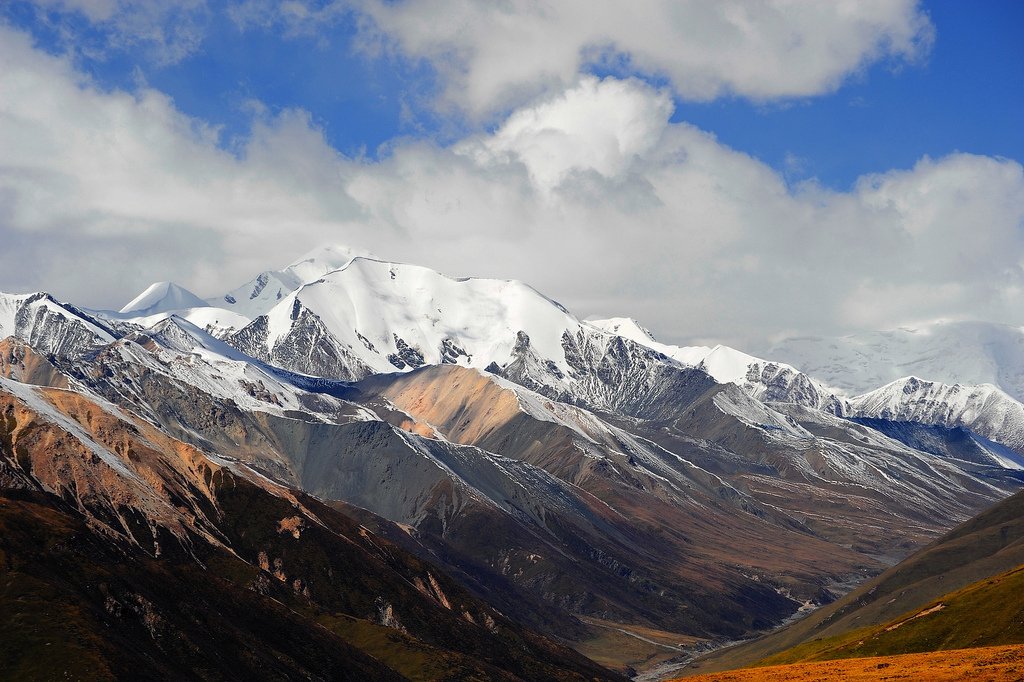 Amnye Machen, the highest mountain in Qinghai Province at 6,282 meters,  has long been considered a sacred mountain and a place of religious pilgrimage. This is a remote mountain that is about a 10 hour drive from Xining and this makes this one of the wildest treks in Tibet on this list. In the past, up to 10,000 Tibetans would make the 120-mile circumambulation of the mountain each year. The first European explorers described Amnye Machen as one of the great geographical discoveries of the twentieth century (it was even mistakenly surveyed to be thought to be higher than Mount Everest at one point). Although Amnye Machen has actually never been climbed, most trekkers spend 3 to 10 days walking around the base of the mountain.  As of 2019 a good deal of road construction has made the once popular, long trek around the mountain's high grasslands much less desirable.  But the inner trek of Amnye Machen up to the main glacier is still relatively untouched and makes a great high altitude trek for adventurers willing to get off the beaten track up to 4,500 and 5,000 meters. 
The journey to Amnye Machen also holds as many wonders as does the trek itself. On your journey to the holy mountain, drive by red clay mountains, sand dunes, and the Yellow River. Visit Ragya Monastery and a nomad tent near Machen before meeting up with the horses, yaks, and yak handlers that will accompany you. Together, begin hiking around Amnye Machen, stopping to receive blessings from Naga at a sacred river, visit meditation caves and the cliffs of Goku Chenmo, and camp in juniper forests. Enjoy a cup of tea at a hidden monastery, look out over glaciers from the Drakdar Pass, and celebrate the completion of your journey with a feast in the Tibetan town of Trika.
Altitude: 3,200- 4,700 meters
Difficulty:  Challenging
Length:  Inner kora 3-4 days
See the Amnye Machen trek here
8.) Yuzhu Feng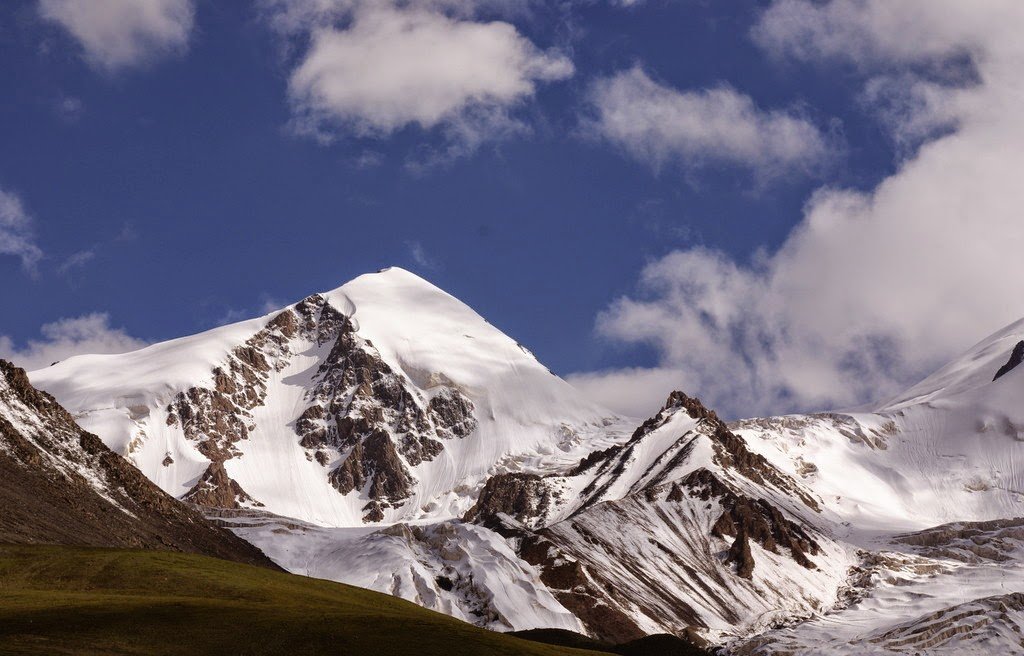 Yu Zhu Feng, altitude 6,178 meters (20,269 feet) , is the highest peak in the eastern KunLun Mountains and located about 3 hours by car outside of GeErMu (Golmud), in Qinghai, China. The climbing season is from May to October with the best time of year in July and August. This is the highest altitude of all the treks in Tibet on this list and does require some light moutaineering.  However most people still consider this as a walk-up and with right acclimatization this is one of the most accessible mountains above 6,000 meters in the world.  Think of this something like the Mount Kilimanjaro of western China.
Yu Zhu Feng is an ideal mountain for beginners looking to get into high altitude mountaineering as it is basically a walk up on a rope team. The mountain has two climbable slopes: the north slope and the south slope. The north slope of the mountain rises from a wide flat plain that begins at 4,300 meters above sea level near the small village of Xi Da Tan. The north slope is good for technical mountaineers looking to practice their skills and also those hoping to acclimatize and rest at Xi Da Tan before heading over to the southern slope. Over the KunLun Mountain pass is the southern slope of Yu Zhu Feng at an altitude of 5,050 meters. The southern slope of Yu Zhu Feng is much more friendly for beginner climbers as the shape and formation of the glacier makes it an ideal place for first-timers and beginners to climb a high-altitude peak. The southern slope will serve as our playground as we set out for the summit of Yu Zhu Feng!
Although Yuzhu Feng is one of China's accessible commercial peaks, still the amount of oxygen in the air is low and adapting to the high altitude is difficult.  Nonetheless, a high level of climbing skills is not needed and overall the mountain is very safe. Yu Zhu Feng is prime staging grounds for practice to go climber higher peaks of 7,000 and 8,000 meters.
See the Yuzhu Feng summit climb here
9.) Yunnan- Meili Xueshan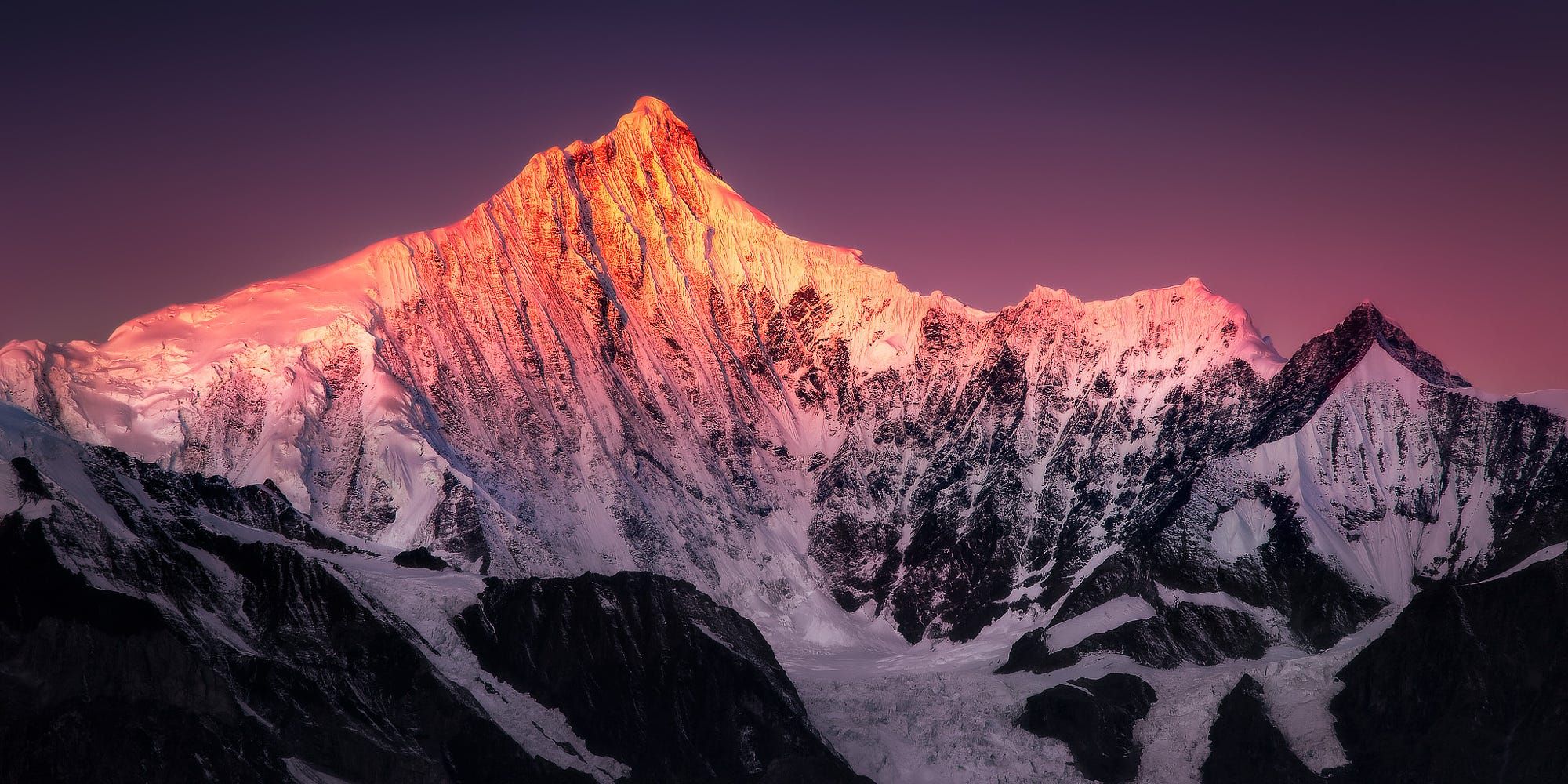 Sacred to Tibetan Buddhists as home to the protective warrior god Kawagarpo, as well as attracting tourists drawn by its natural beauty, the Meili Xue Shan range is also visited by tens of thousands of pilgrims each year. While the arduous two-week kora circuit of the mountain conducted by the faithful is not for everyone, there are also some less demanding hikes – still with spectacular views – to be had that make this one of the best treks in Tibet for those visiting Shangri-la and Northern Yunnan Province.
Entry to the park area is from Xidang, while most visitors stay in Yubang as a base for hiking local trails. Any visit to the area should be taken seriously, despite the relatively well-worn paths: always carry food, water, a torch and first-aid kit. Full weatherproof gear and good hiking shoes are a necessity.
10.) Nangchen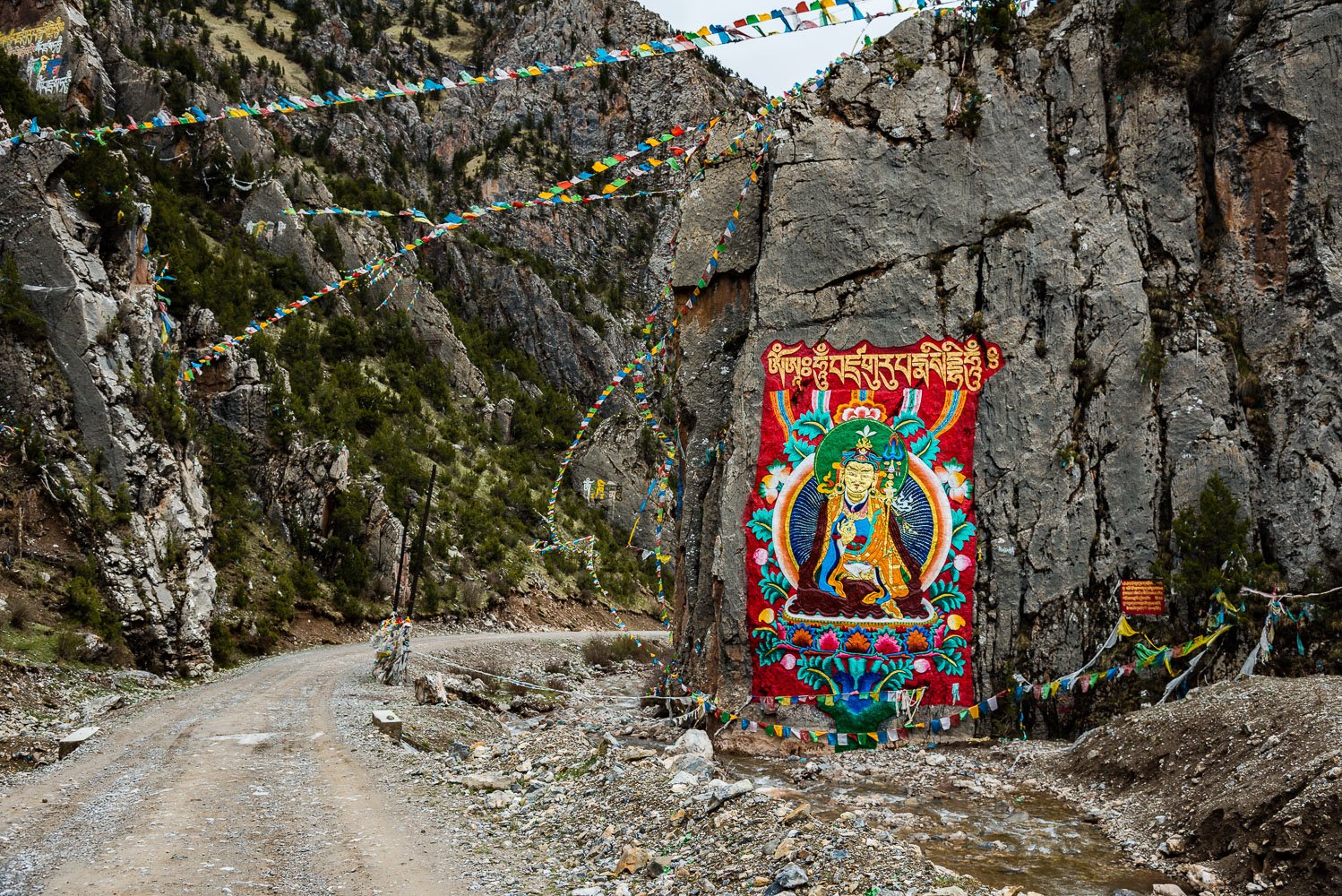 The Kham Tibetan people live in some of the wildest and most magnificent lands in all the Tibetan Plateau. In this in-depth trekking tour you start and finish in Yushu, a central trading town deep in the heart of Kham. On this trek you will experience one of the last truly wild and nomadic places on the earth, Nangchen, home to the headwaters of the Mekong River, China's 5th longest river.
The Mekong River, with a total length of over 4,500kms / 2,700miles, starts in a remote and desolate open wilderness that  is far off the beaten track and therefore offers lots of chances to view unique wildlife like Tibetan antelope, Tibetan Wild Ass, Blue Sheep, Black-Necked Cranes, and the rare and elusive Tibetan fox. From it's source to its winding banks along the Tibetan Plateau, the entire Mekong River area is stunning. It offers everything from high snow-capped mountains to grasslands filled with yaks to verdant evergreen forests. The Tibetan culture in this area is some of the best preserved in all of Tibet. The wildlife and diversity of terrain make this one of the most interesting and undiscovered treks in Tibet on this list. 
Every turn is full of surprises as you trek mountains, explore monasteries, and discover cultural highlights while we make our way to and from the edge of both the Kyichu and the Mekong Rivers. This trip is for those who want to experience fullness of the food, traditions, and culture in Tibet's remote villages and the beauty and diversity of some of Qinghai's biggest and most ornate monasteries, tucked away in stunning mountain scenery that has ever been seen by few, if any, western tourists.
https://www.elevatedtrips.com/tour/trek-nangchen/
See aerial drone footage of Nangchen in Kham Tibet here in this video
For more information on treks in Tibet, here are some excellent resources we recommend with great packing lists and other travel advice: