How to Take the Train in China
Here are the basic steps you will need to follow for a successful journey
Step 1: Arrive at the railway station at least 1.5 hours before your train departs
Step 2: Pass through the security check and ticket check at the station's entrance
Step 3: Find the right waiting room and wait for boarding
Step 4: Check in at the right boarding gate
Step 5: Go to the train platform for boarding
Step 5: Settle in, and store your the luggage and sit down (or lie down) to enjoy your trip
Step 6: Upon arrival, get off and exit to your destination.
Now let's look into the details of this process…
7 Things to Know Before Riding A Train in China
You may have heard that train travel in China can be a delightful adventure and this is absolutely true. My family recently took the train from Xining to Chengdu and we thoroughly enjoyed the journey in our private soft sleeper rooms.  Our kids (ages 4 and 6) really loved the experience of being in their own bunk bed and looking out the window while the beautiful, lush Sichuan countryside passed by.  The whole 14 hour drive was quite magical for them.
The train in China is really a memorable experience – for adults and children alike. There are many times in our lives when we just have between 12-50 hours to relax, read a book, and watch beautiful dream-like landscapes through a train window.
But there are a few things you need to know before you depart on your journey to make it a success (and not a stressful undertaking).
Read on for things you should know before taking a train in China, like how to get to/through the railway station, how passengers are searched at security checkpoints, what drinks/food can be purchased on the train, and what the toilets are like. When you travel, it is the details that will make the difference in your journey and knowledge is power 🙂
1.) How to Read Your Train Ticket 
Station Information
Go to the Right Departure Station
Check the departure station carefully. Most cities in China have more than one railway station and they are often far away from each other (usually 30-90 minutes away on different sides of the city). It is recommended that you find out how to get to your station in sufficient time before your departure. And make sure you are going to the right station.  If you are arranging a taxi or preparing to board a subway or bus to your train station, make sure you check with your hotel staff first or travel agency just to make sure you know exactly which station to get to and how to get there.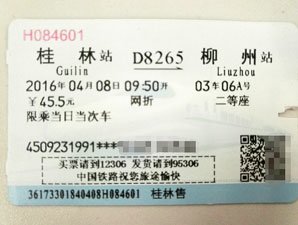 A train ticket from Guilin Railway Station to the Liuzhou Railway Station 
(NOTE:  This is train #D8265 / Train Car #: 3 / And Seat #: 6A/ This train departs at 9:50am on April 8, 2016)
If you accidentally go to the wrong station, you will find that the electronic boards do NOT show your train's schedule at all (this is your first hint you may have gone to the wrong station). By the time you realize your mistake, you likely will not have enough time to transfer to to the correct station and you therefore will probably miss your train as it will take more than hour to transfer to the right departure station.
If you miss your train, you can make an alteration at the ticket window in the correct departure station for the next train on the same day. The alteration is free of charge, and you will get a refund for the difference if the next train's ticket is less expensive, or you will be asked for an additional payment if the next train's ticket costs more.
Don't Get Off at the Wrong Station
It is also important to correctly read the information for the arrival station. For example, the southbound train from Beijing will first reach Guilin North Railway Station (桂林北站) and then Guilin Railway Station (桂林站). So make sure you know which station you are getting off at.
Getting off the train at the wrong destination can cause you to pay a penalty fare if you continue the journey too far, or require a trip across the city if you get off too early. If you have scheduled a pick up at your destination this may also cause a great deal of confusion with your party as they may be waiting and looking for you for hours at a station you are not at.
Pay attention to the announcements on the train as they will tell you which station you have arrived at. If you take an overnight train, a member of staff will wake you up to exchange your sleeper card for your original paper train ticket about half an hour before arriving at your destination.
Here is a tip once you have reached your destination:
Look at the arrival time for your train and set your alarm for 1 hour before that time.  Sometimes trains arrive a few minutes early or late for their scheduled arrival times so make sure you account for this.  Once the train stops you may only  have one or two minutes to exit (especially if your train is continuing onto another destination).  So make sure you are all packed and you have all your charging cords, electronic devices, and all your luggage all packed and ready to go.
Get a visual idea of how to read China train tickets.
2.) Luggage Allowance — Pack Smartly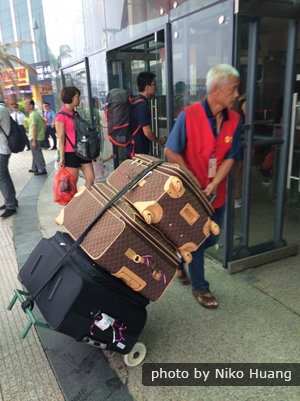 Sometimes the excitement and anticipation of travel is half the fun, so make sure that you leave plenty of time to pack for your travel and get all those last minute items. Separate your belongings into large luggage and small carry-on items. Important things, such as travel documents, tickets, money, and valuable items should be kept on you at all times. Having a fanny pack, day pack, or purse is handy. The outside of train stations are notorious for pickpockets so keep your things close to you and always be mindful of your luggage and do not leave items unattended. Remember to put your tickets and passport away safely after the ticket checkpoints. If you lose these – your vacation will suddenly not be so fun.
Packing light is important. You can find all kinds of tips about packing light on the internet and everyone has their own style of packing. If you are not able to lift your luggage above your head, the train stewards can assist you in this task. Often times, luggage can either be placed under your hard or soft sleeper bed or in a public overhead compartment (which has no lock or door). Therefore, it is important to have your luggage zipped up or closed securely using a combination lock.
When taking an overnight train, you should consider taking flip-flops, bathroom supplies (toilet paper and a toothbrush), and perhaps earplugs and an eye mask. Take a book or an iPod to help pass the time.
Carry-On Luggage Regulations
Ordinary passengers: 20 kg (44 pounds)
Children with a half-price ticket (1.2m–1.5m) or no ticket (under 1.2 m): 10 kg (22 pounds)
The total length of each item cannot exceed 160 cm, unless it is rod-shaped.
The above limitation is not applicable to wheelchairs, which can be taken on to the train for free.
The limitations for luggage are not as strict as they are for airplanes.
Senior travelers or passengers with excessive luggage can hire a porter at the station entrance — they are easily spotted as they wear sleeveless red jackets and red hats. The price is approximately 10 to 15 yuan. They will help to load the luggage onto the train. Beware of people that offer to help you carry your luggage who do not wear the official train uniform. These people will rip you off to carry your luggage only for a few minutes and they should be avoided.
3.) Arrive At the Station 2 Hours Before Your Train Departs
Arriving at a train station generally follows the same rules and processes that you would follow if you were to arrive at an airport.  If you are not a fan of taking risks, it is always better to arrive early at the railway station (especially if you have to pick up your tickets at the station). Nobody likes waiting around, but we suggest that you arrive 2 hours  before your train's departure time.
Here are a few reasons to leave yourself a little extra time:
Leave Extra Time to Get to the Station —In Case of Traffic, Getting Lost, and Crowds
Some railway stations can be as vast as an airport and are situated a long way from the city center. It's a good idea to leave your hotel or last activity in plenty of time in case of traffic, queues, crowds, or in the event of getting lost. Give yourself enough time to enjoy a relaxing journey. Usually 2 hours is enough, but the time can be reduced if going to a very small, local train station.
There Are Many Things to Do Before Boarding— Long Distances and Lines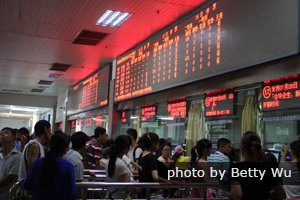 A crowded train station
The distances between the ticket office, security check, waiting room, and station platform can be quite long, and it is sometimes necessary to walk from one side of the station to the other.
Remember that you are not doing this alone; there will be hundreds of people doing the same thing, meaning that you might be standing in waiting lines for a long time (especially around holidays and times of high-season travel such as Chinese New Year, October Holiday, and May Holiday). From the moment you arrive at the train station, you will likely need to be queuing in crowded lines (And remember- Chinese people do not always form or respect an orderly single-file line. So you may have to be a little aggressive to maintain your spot in line).
At the station entrance you will need to pick up your ticket at the "ShouPiaoChu" or 售票处. This is often separate from the train station entrance itself and they may not allow you into the station until you have been to the nearby ticket pick up office to get your ticket.  Here at the ticket pick up gate, you will have to stand in line (maybe a half an hour or more, unless you've used a ticket delivery service or got your tickets delivered in advance to your hotel), then pass through a ticket and ID check followed by a security check.  After this you will need to locate and walk to your train's specific waiting area, then, after a 10-15 minute walk through a busy station, will need to wait again in line at the waiting room ticket gate.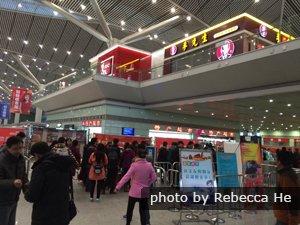 Explore the train station if you get to the station early.
Things to Do If You Get There Too Early
No time needs to be wasted, even if you get there early. For first-timers, early arrival at the railway station gives you a good chance to explore the station and observe the locals. You can purchase some food or drinks at the shops so that you won't go hungry during the journey. If you are traveling with kids, an early arrival gives you some time to calm them down and prepare for a good trip.
Bear in mind that the station will stop the check-in facility 5 minutes before the train departs. So don't lose yourself in the stores at the train station. You are recommended to get to the waiting room at least 30 minutes before the train departs (especially if you want to find a seat amidst 100's of other passengers waiting for the same destination).
4.) Security Checks
Prepare Your Passport and Ticket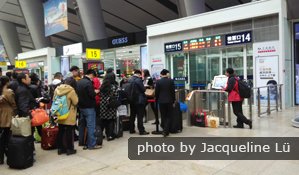 All passengers and luggage are required to pass through a security check at the station entrance. Please prepare your train ticket and passport (or Mainland Travel Permit). You need to line up for the security check, just like at an airport. After the security check keep your passport and train ticket on your person, and don't lock them in your suitcase, because you are going to need them for another ticket check or two when you board the train.
There may already be a long line at the entrance so, as we have already mentioned, you are recommended to arrive at the train station early.
5.) Boarding Smoothly
Getting to the Right Waiting Room, Gate, Platform, Car, and Seat
Find the Right Waiting Room Using the LED Screens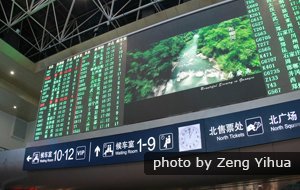 An LED screen at Beijing West Railway Station
After the security check, you need to find the right waiting room. A train station may have many waiting rooms for different trains. And usually the information on the screen is in Chinese only, although some screens display both English and Chinese.
Look up at the large LED screens for your train number, and see which waiting room is allocated to your train number. Your train number is a letter with numbers displayed on the top middle part of your train ticket, such as G655 or D3201. A large LED screen shows different trains' departure schedules in rotation, so you might have to wait for the screen to change once or twice to see your train information.
Usually the waiting room information shows the floor and room number, such as"2楼1候",meaning '2nd floor 1st waiting room'. You could ask someone near you for help to get to the right waiting room, by pointing at your ticket then the LED screen, then saying, "Wǒqùnǎr?"(我去哪儿/wo choo narr/ 'I go where?'), or read the Chinese yourself.
Get to the Right Gate
An LED screen of check-in gates
A waiting room may not only have one platform gate (like in an airport). There may be several gates going to different platforms to board different trains, so don't line up at the wrong gate.There are generally rows of seats either side of a gate's lining up aisle.
LED screens for each gate in each waiting room show different trains' numbers, departure times, and platform information. If you know Chinese, you can listen to the broadcasts for boarding information.
Get to the Right Platform
Once you get to the right gate, generally, you can check-in with your train ticket 15 minutes before departure. Before you walk along the long corridors to the platform, look up at the LED screen for the last time and find your platform number. Look for your platform number showing which stairway to walk down to get to your platform.
Getting to Your Seat/Bunk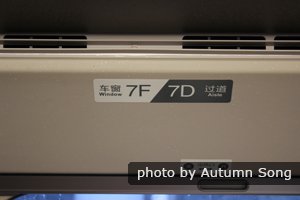 Seat number sign on a bullet train
Check your train ticket for your car number (listed as: 车 on your ticket) as you descend to the platform. There will be staff at each train car door. You could show your ticket to a member of staff. He/she will check that you are boarding the right train car. The character 车 denotes your car number.
Once on the right car, find your bunk number (shown by 铺 on your ticket: 上 for top, 中for middle, 下 for bottom), or seat number (shown by 座 or "seat" on your ticket), usually displayed on the luggage racks around head height.
Chinese "Cheat Sheet" for Getting Help
You could carry a card (or an image on your device) listing useful sentences written in Chinese to find your waiting area, platform, coach, and seat, and show these sentences to any staff member or passer-by, along with your ticket(s):
| Chinese | English |
| --- | --- |
| 我搭这趟火车, 请问我的候车室在哪里? | I am taking this train; would you please tell me where the waiting hall is? |
| 我搭这趟火车, 请问我在哪个站台上车? | I am taking this train; would you please tell me which platform I should go to? |
| 我搭这趟火车, 请问我在哪个车厢? | I am taking this train; would you please tell me which coaches I should board? |
| 我搭这趟火车, 请问我的座位是哪个? | I am taking this train; would you please tell me where my seat is? |
6.) Know What's on the Train
Food, Water, and Toilets
Different trains offer different services and facilities. High-speed trains are modern and comfortable, while normal speed trains may not be so convenient for foreign travelers.
G, D, and C: High Speed Trains — Modern Facilities for a Convenient Journey
When taking high-speed trains, lettered G, D, or C, you can enjoy a more comfortable train journey.
Seating: High-speed trains are fully air-conditioned. The seats are adjustable, just like seats on a plane, for you to sit comfortably. What's more, there is a 220V AC socket under each seat for your devices.
Food: High-speed trains offer different types of set meals (including Muslim food).You can go to the restaurant car to have a meal, where they offer made-to-order meals at 20 to 50 yuan per dish. Or you can buy a set meal from the attendant's trolley. You can also go to the canteen bar to buy some snacks and drinks.
Water: Free boiled/cold water is available between the coaches.
Toilets: Chinese/Western-style toilets and handicapped restrooms are available between the coaches. However, the toilets have usually run out of toilet paper or don't provide toilet paper in the first place.
LED screen: Every coach with an LED screen indicates the speed of the train.
Luggage racks: There are luggage racks over the seats at either side of a coach. You can take a 24-inch suitcase on board and place it on a luggage rack. There are some shelves between the coaches for large baggage. Shelves for large suitcases, suitable for a 70cm (28-inch) suitcase.
K and T Number Trains: Normal Speed Trains — Not as Comfortable
Normal speed trains are not as convenient and comfortable as high-speed trains. If you have to take such trains, you are recommended to buy tickets for soft seats or hard/soft sleepers. If you choose to book the hard seats for your party, you should be prepared to sit next to a lot of Chinese men playing cards, making loud jokes, and smoking cigarettes all around you for long hours. The hard seats are slightly cheaper than the hard or soft sleeper beds but offer little in the way of privacy or cleanliness.
Seating: Hard seats are not adjustable. There are no power outlets. Normal speed trains, apart from the oldest number-only ones, are fully air-conditioned.
Food: Some trains don't have a restaurant car, but most T and K trains do, and there is often a staff member who walks through the coaches selling somewhat overpriced simple small items, snacks, and drinks from a food trolley.
Our suggestion is to purchase some simple food and drinks before boarding, such as a takeout from KFC or McDonald's.
Water: There is free boiled/cold water is available between each coach car. Make sure that the water is labeled as "drinkable" because all the other faucets on the train provide water that is NOT suitable for drinking.  There are sometimes hot water kettles available in the soft sleeper cabins where you can store your boiled water in case you want to prepare some instant noodles or Starbucks VIA coffee.
Toilets: Most trains only have Chinese-style squat toilets, which are usually quite wet and dirty. Some soft sleepers / deluxe soft sleepers have Western-style toilets which are a little cleaner. In either case, keep your bathroom expectations pretty low and bring lots of hand sanitizer and wet wipes.  Never enter a bathroom without shoes as the floors can be quite wet and messy.
Luggage racks: After you board the train, you can place your baggage on the luggage rack above the seats. If you are on a sleeper carriage, you can place your baggage on the opposite side of the berths, under the lower berth, or under the small desk in your compartment.
5 Places to Buy Food for Your Train Trip in China
Chinese people always buy snacks for short-distance trips and food for long-distance train trips. Generally, the food prices at the train station and on the train are higher than those in the outside restaurants or stores. If possible, you should take your own food or snacks. I have some friends that always prepare a nice bottle of wine and some imported cheese and crackers for their journey and think this is a great practice.  With a little preparation, the train ride can be a fun little traveling picnic!
There are five places you can buy snacks or food in and around the train:
Shops or fast-food chain restaurants around your hotel or city center, such as Subway, KFC and McDonald's. You can buy the food in advance then go to the train station to board your train. You have more options if you prepare the food in advance.
Small shops at the train station. There are lots of shops at the station. You will find fruit, bread, milk, and eggs in the shops and these are something similar to what we would consider American "gas station food".  You can pay for these items using Chinese yuan cash OR Wechat or Alipay
The platform at the train station. When the train stops at a station, you can get off the train to buy some food. There are vendors selling local dishes or more simple food. You will find food like boiled corn cobs and tea-flavored boiled eggs. But make sure you only take a few minutes as you do not want the train to leave without you!
There is a dining car on long-distance trains that is open to all passengers and this area sells snacks, beer, and soft drinks. There is a canteen bar on high-speed trains. Try to go there as early or as late as possible because it will be very crowded at meal times. The dining car offers prepared and heated packed meals and the prices range from 15 to 45 yuan.
Railway attendants take trolleys through the cars frequently and you will hear them yelling by your cabin. There are packed meals at meal times and each one is about 25 yuan. The Chinese meal includes rice, meat, and vegetables. You can buy instant noodles too (which almost all the Chinese eat). There is free boiled water on each car. At other times, the attendants also sell drinks, snacks, packed fruit, and some toys for kids.
7.) Travel Safely
Train travel in China is a fairly safe and standardized process, especially when compared to traveling in India or Nepal.  Yet good advice never hurts.
When you are traveling with young children, keep them close by your side and keep an eye on them. Don't allow kids to run up and down the train coach/platform, or lose them in the station. Beware of pinching fingers in the (automatic) doors. Hold onto the hand knobs and rails while walking inside the coach. The bathroom floor can be slippery (and sometimes a little nasty), so be careful in there.
Don't leave your valuable belongings unattended. There is a power socket under the seat (on high-speed trains) or on the small table (on non-high-speed overnight trains), which can be used to recharge your devices. Never leave your valuables unattended. When taking an overnight train, keep your carry-on items close to your body. Your passport and ticket should always be kept with you.
Travel in China With Us
If you are planning to take a train during your China trip, please see our recommended tours below for inspiration. You can enjoy hassle free travel with Elevated Trips. All you have to do is arrive in the train or plane station and we take care of everything else.
If you have more questions on train travel, do not hesitate to contact us here.