Of the 9 total Tibetan villages located inside the park boundaries, 7 of these are still active.  Because the park is now a nationally protected treasure these villages no longer practice agriculture but most of these villagers make their money off tourism in the park.
Sometimes referred to as the "Yellowstone National Park of China" Jiuzhaigou is one of the most beautiful national parks in all of China.  But please be aware that in 2016 the park hosted  5.14 million visitors and most of these are Chinese nationals.  June, July, August, and October Holiday (October 1-8) is especially the tourist high season and you can expect to encounter large crowds and long lines at the park in these times. As an American I feel these crowds take away from the natural wonder of the park and would try to avoid visiting the park in peak season times if at all possible.
The fall foliage in September and October is spectacular in the park,  with dramatic leaf colors of yellow, orange, and red, and we recommend visiting Jiuzhaigou in the off season between September 1 to May 15.
After recovering from an August 2017 earthquake the park is restored and tourism is alive and active in this region.
If you are looking to view the blue lakes, dramatic waterfalls, and pristine forests of Jiuzahigou you can view a sample tour here that travels from Xining to Chengdu:
You can also contact us anytime at:    info@elevatedtrips.com
The History of Jiuzhaigou
Jiuzhaigou is full of history and whimsy across its 9 villages and its breathtaking alpine lakes. According to legend, a goddess accidentally dropped a mirror and the mirror immediately broke into 108 pieces, forming 108 colorful lakes across the park's ecosystem.  108 also happens to be a holy number in Tibetan Buddism as there are 108 teachings of Buddha and each Tibetan prayer rosary contains 108 beads to help practitioners remember these teachings. Each scenic spot here has it's own unique legends and we recommend spending some time with a translator to hear some of these amazing stories from local villagers inside the park.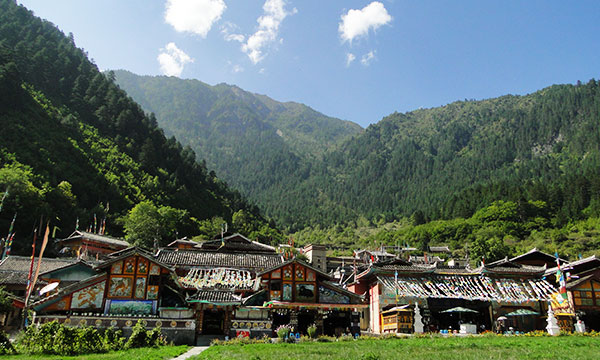 Here is one of the nine villages
The Culture of Jiuzhaigou
Despite the high number of tourists that visit this park, the total population of the Tibetan villages in Jiuzhai Valley remains only at 1,000, with just over 110 families. While the valley was officially discovered by the government in 1972, the record of earliest human activities here dates back to the Yin-Shang Dynasty, somewhere in the period of  the 16th – 11th Century B.C. Before the 1960s, Tibetans in Jiuzhaigou lived a fully self-sufficient life and were almost completely cut off from the outside world. Then in the 1970s, Chinese loggers discovered these rich forests and the park was soon throttled into the national spotlight as a mystical Shangri-La and a place of impressive wonder.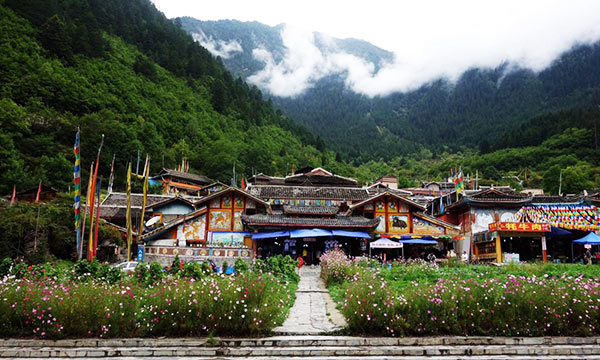 The nine Tibetan Villages
Most Tibetans in Jiuzhaigou mainly believe in the animistic religion that predates Buddhism known as Bon or Bonpo.   Bon bears some similarities to Tibetan Buddhism but also separates itself from Buddhism as an official religion.  Most notably, Bon followers will walk around a monastery or a holy pilgrimage counter-clockwise, unlike Buddhist pilgrims who will always circumambulate a holy site in a clockwise direction.  Much of Tibetan Buddism actually incorporated the teachings of the original Buddha with the animistic practices of Bon and
Jiuzhaigou is one of the few areas on the Tibetan Plateau where this native form of Shamanism is still regularly practiced.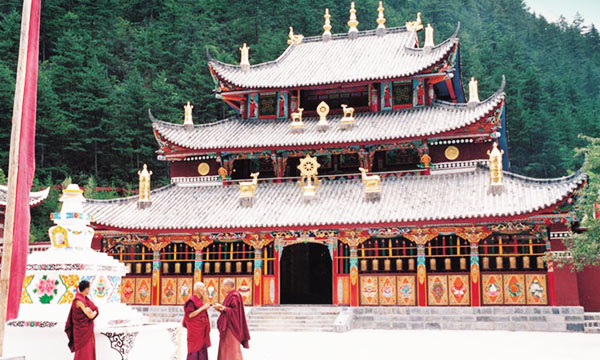 There are over 60 Bonbo monasteries in the Aba Tibetan and Qiang Autonomous Prefecture and Jiuzhaigou is right in the heart of this uniquely religious area.
With religion deeply planted at the center of every Tibetan life, do not be surprised to find Tibetans practicing worship in the form of lighting butter lamps or hanging colorful prayer flags in auspicious locations to appease local deities and spread good karma.  Tibetans will often make a pilgrimage to important spiritual locations in the mountains and rivers and will throw up small square white pieces of paper that in Tibetan are called Lungta.  Lungta literally translates to "wind horse" and it is thought that these paper horses carry the prayers of those who throw them as they float on the wind across the landscape.  If you see Tibetans spreading these lungta at holy sites you will also hear them cry, "Victory to the gods!" in Tibetan as they whoop and holler and celebrate these beautiful places. Part of the attraction of Jiuzhaigou is not only the beautiful scenery but the idea that this culture has remained so faithful to these teachings and practices for so many centuries.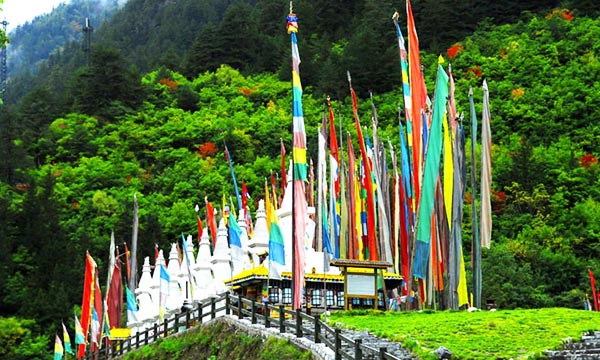 The Bonbo and Tibetan Buddhists worship and make sacrifices to spirits of the water and the land.
You may also find vertical prayer poles in Jiuzhaigou. These colorful banners are called "Geda" in Tibetan which means the banner on the gate. These banners draw from a Mizong tradition from the central plains of China and are often seen dotting  road to Jiuzhaigou as a symbol of peace and prosperity.
The banners, clad in the 5 colors of the earth, can vary in length from  7 meters to 25 meters depending on the particular intention of the banner.  Some of these banners are used as prayers for the yearly barley harvest while other banners are for instruction on the teachings of the Buddha Sakyamuni.  But all the banners contain prayers which are thought to release prayers into the wind for the benefit of villagers who hoist them across the park .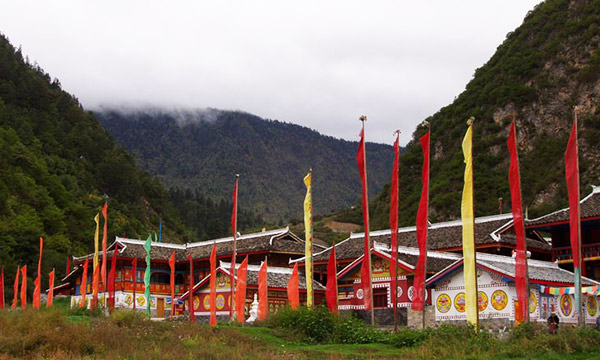 Another popular spiritual symbol you will find throughout the park is the Tibetan prayer wheel. Prayer wheels can be seen everywhere within the region. Some of these wheels are turned by water features like flowing rivers while others are turned by wind and still others (large and small alike) are turned by human hands.  These wheels contain many small pieces of paper containing scriptures and it is thought that by spinning the wheels prayers of compassion are released for all sentient beings.
The Customs of Jiuzhaigou
About five hundred years ago, the father of Jiuzhaigou migrated to here from Ngari, Tibet. Since that time until now, the Tibetan villagers have coexisted peacefully next to many diverse peoples including the local Qiang, Huis and Hans. Today, the original  Tibetan traditions are still a major part of village daily life, including  traditions in marriage, funeral arrangements, and clothing, and dance.   Seeing the colors and rhythms of  a Tibetan circle dance is definitely one of the highlights of the visit to Jiuzhaigou.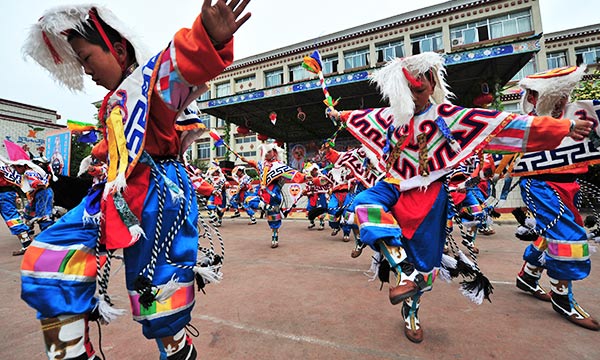 A Colorful Tibetan dance in a local square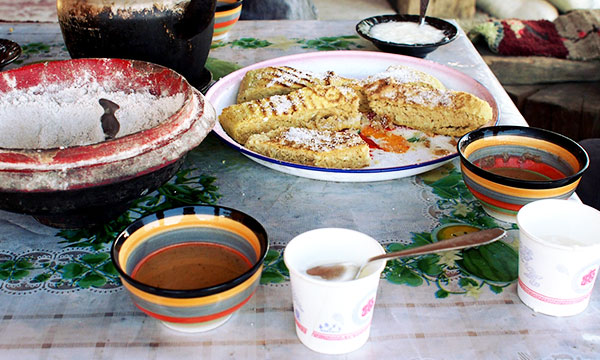 Yak butter tea
Tibetans also still consume traditional  foods in Jiuzhaigou.  In particular you may get to sample some yak meat or freshly roasted lamb meat along with Tsampa, a powder made from barley flour and rolled into a playdough like ball and usually eaten for breakfast.  You may also get to sample homemade Tibetan barley wine, know as Qiang, or fresh yak yoghurt depending on the season.
We hope you enjoy your visit to Jiuzhaigou National Park!