Introduction to Hezuo
The Tibetan name Zö/Hzö  གཙོས། is pronounced Dzoi in Standard Tibetan and pronounced Hdzoi/Hdzu in the local dialect.  Zö is the traditional name for a Tibetan Ibex and you can see statues of this animal throughout the town.
Today the city has been named Hezuo or 合作
Hezuo is the capital city of Tibetan Autonomous Prefecture in southern Gansu Province. Standing at the junction area of Gansu, Qinghai and Sichuan provinces, it is the hub of nomadic activity of the central plains region and the Amdo Tibetan region. And it is also the center of commerce between historical Tibetan and Chinese trading.
Located at the northeast edge of the Tibetan Plateau, Hezuo is 276 kilometers south of Lanzhou. The city contains many large hotels and every sort of restaurant you could hope to find in a middle-sized Chinese city. There is no railway running from Lanzhou to Hezuo, however, regular buses are available every day from Lanzhou every 35 minutes from 05:50 to 16:04. It takes about 4 to 5 hours by bus to get to Hezuo and the ticket fee ranges from 37.5 RMB to 49.5 RMB depending on the departure time. 
The Milarepa Temple in Hezuo
Hezuo's main attraction is the 9-story Milarepa Temple. It is said that there are only two temples of this kind in the whole Tibetan area, and the one in Hezuo is the only one which has nine floors and is dedicated to a primary founder of Tibetan Buddhism, Milarepa. Milarepa is one of the few saints who is thought to have attained enlightenment in one lifetime.  He is often pictured as very thin and bony (as he was meditating and fasting in a cave for most of his latter years) and with his hand to his mouth as he would often sing his lessons and teachings to his disciples so they could better remember his ideas.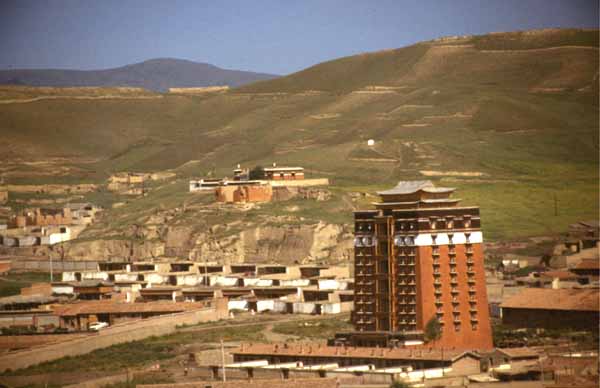 The Milarepa Temple is about 40 meters high and was originally built in the Qing dynasty. There are perennial resident monks and lamas studying here and if you have the time, spend an afternoon watching them perform their ritual duties, including burning juniper and lighting incense.  There is also a very nice pilgrimage around the entire monastery that can take around 30-45 minutes to complete if you are up for a leisurely stroll with Tibetan Buddhist pilgrims. Once you have finished this walk, you can also meander over to Folk Street and Century Square which are a short walk from the monastery complex.
It's worth a rickety climb up the steep wooden steps of the nine floors not only for the artifacts but also for the decent view of the city from the top. A nice monk who oversees the grounds may invite you into his office for tsampa and tea if you speak a bit of Chinese or Tibetan and have a little free time.
The entrance ticket to the Milarepa Temple is 20 RMB/adult and it takes about 3 hours to see this monastery, making it a great half day trip around the town of Hezuo.
See more on Hezuo and what to expect for seasonal weather here.
If you want to travel to Hezuo and see this amazing temple, here is one of our itineraries that goes there…